10 Things You Didn't Know About Echosmith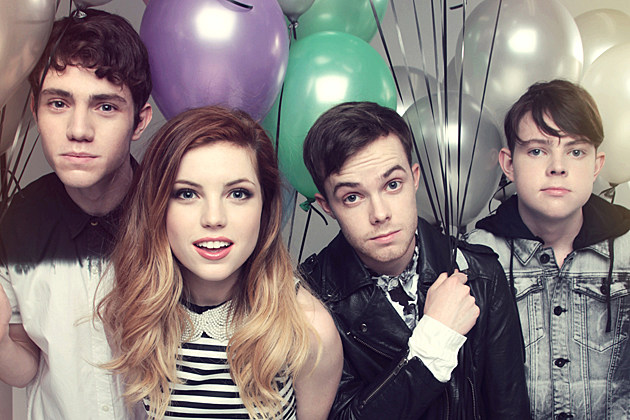 Allow us to make an introduction: PopCrushers, meet Echosmith. This four-piece is a band you need to know about! Echosmith are comprised of the Sierota siblings — three brothers (Jamie, Graham and Noah) and their sister (Sydney) — so it's all in the family! The band is releasing their debut, 'Waking Dreams,' today (you can get it here) and it's an indie pop album influenced by some of the new wave of the '80s. The end result, though, is uniquely their own.
The band spent its summer vacation on Warped Tour, converting attendees into fans. They turned our heads. If they are not on your radar yet, they should be, since their song 'Come Together' is a dreamy but solid tune that has a hint of the Cure influence. But there is a lightness and roominess to the song, which we've been trying to expunge from our brains for days! It's a futile effort, so we just gave in!
Find out which bands are their favorites, who is a major fan of a certain Mexican fast food chain, which Jack Black flick is their fave of all time and the craziest thing that happened to 'em on Warped this summer.
Go ahead, read on and get to know Echosmith. And while we have you here, their song 'Cool Kids' is iTunes' Single of the Week.
Our favorite bands are the Smiths, Joy Division and the Killers.
Noah's favorite snack is cookie butter.
Sydney could eat Chipotle every day for the rest of her life.
First song we ever played together six years ago was 'Lovesong' by the Cure.
Graham wakes up happy every single day.
Our first concert was Switchfoot at the Del Mar Fairgrounds in San Diego.
Jamie's first guitar was a Gibson Les Paul.
Our favorite movie of all time is 'Nacho Libre.'
'Breaking Bad' is our favorite TV show.
Scariest Warped Tour Moment: Pulling out of Denver's Mile High Stadium in the middle of the night and hearing crunching metal as we pass by trees, realizing we didn't put the awning on the RV back in before leaving…