2012 Grammy Awards: Fans React to Chris Brown, Adele, Taylor Swift Wins + Performances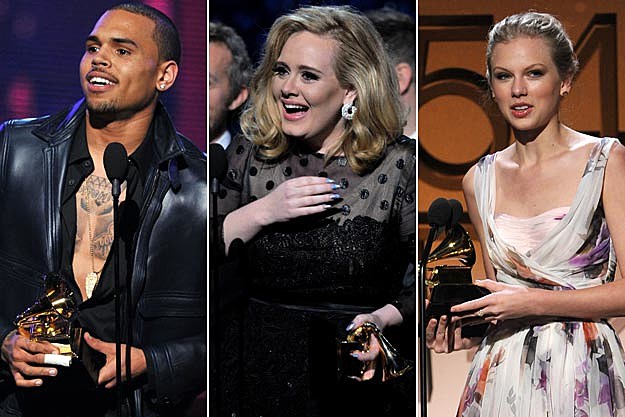 Kevin Winter (3), Getty Images
Twitter was a-buzz tonight with music fans all over the world chirping up a storm about both their favorite and most dreaded moments of the 2012 Grammys! Most fans enjoyed the Beach Boys reunion with Maroon 5 and Foster the People, while Twitter critics agreed Nicki Minaj's performance went a little too left of center for their tastes.
Team Breezy got Chris Brown's name trending after his win for Best R&B Album, and fans also commented on Taylor Swift's 'Mean' performance. But no one had more Twitter hype than the Grammy's leading lady, Adele! Considering she won every major award, there were no shortage of tweets regarding the songstress. And it was agreed upon among all tweeters, that Jennifer Hudson knocked the tribute to Whitney Houston out of the park. Read Twitter reactions from viewers like you!
Anybody who says watching this Beach Boys performance didn't make them think of Uncle Jesse, Danny and Joey is lying lol.
No one needs a moustache more than LL Cool J. He looks like a salamander.
Stevie Wonder got the black version of the mullet
"Foster The People definitely deserves to play with the Beach Boys!" -no one
Congrats Chris Brown!!#FAME is so good!!Don't you know you are Beautiful... is like my fave song on there!!#GRAMMYS
I got ya Paul McCartney. You're so famous that you can't sing 1 of the 6,750 songs we want. I got ya. Sing Get Back or get off the stage.
Taylor Swift song Why You Gotta Be So Mean would've been a perfect time for Kanye to interrupt
Katy Perry almost had a black out, explosions+special FX yet isnt capable of beat Adele w one light bulb #Grammys thats talent
What if Adele, Taylor Swift and Katy Perry are all singing about the same dude?
Adele Stole The Night #teamadele
Somewhere in the UK, the fellow Adele wrote #RollingInTheDeep about is sitting in front of his television getting very, very drunk. #Regret
Whitney tribute. I'd be in tears right now if I was Jennifer Hudson. #Grammys
Now I have chills. Jennifer Hudson was the best choice for the Whitney tribute. Kudos to the #grammys team for putting it together so fast.
Nicki Minaj's set is making that deadmau5 set look straight up normal. #grammys
IM ALL FOR a little controversy.. BUT Nicki Minaj is well on her way to Career Suicide!! How RUDE! wtf Nicki