2013 Grammy GIFs – Watch Pop Stars Dance + Perform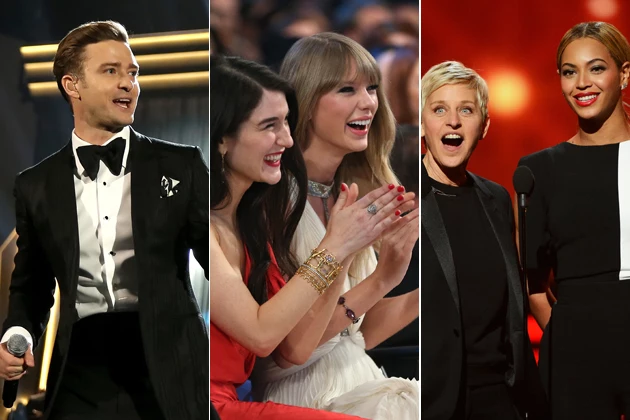 As you can tell by these GIFs, the 2013 Grammys were a whole lotta fun! Pop fans and celebs alike were treated to some truly stellar performances from Bruno Mars, Sting, Rihanna, Kelly Clarkson, and Justin Timberlake.
We also learned that we never want to be invited to a Taylor Swift dance party. Just kidding! She was definitely dancing like no one was watching, though.
So, let's celebrate music's biggest night in the best and most fun way possible… GIFS!
Pretty much everyone was LOVING Bruno Mars, Sting and Rihanna's tribute to Bob Marley.
Adele won for Best Pop Solo Performance, but gave props to Rihanna like a true lady. Beyonce approves. If they gave out an award for Best Light-Up Dress, Carrie Underwood would have cleaned up.
The best, and most British, high five was shared between Ed Sheeran and Elton John after their performance of 'The A Team.' Beyonce and Ellen DeGeneres introduced Justin Timberlake and it was a little… awkward. But who cares because JT put an Instagram filter on the entire Grammy broadcast. Frank Ocean won for Best Rap/Sung Collaboration and Chris Brown was a total sourpuss. fun. made it rain with their performance of 'Carry On.'
fun. also won for Song of the Year and thanked Jay-Z to which he replied like a true gentleman… Prince was pretty much the flyest person at the Grammys forever and ever. Amen. Taylor Swift opened the show with a bad acid trip… err… we mean performance of 'We Are Never Ever Getting Back Together.' She also danced… And danced… And clapped… And danced…
And danced some more…