Which Artist Should Win the 2013 MuchMusic Video Award for International Video of the Year? – Readers Poll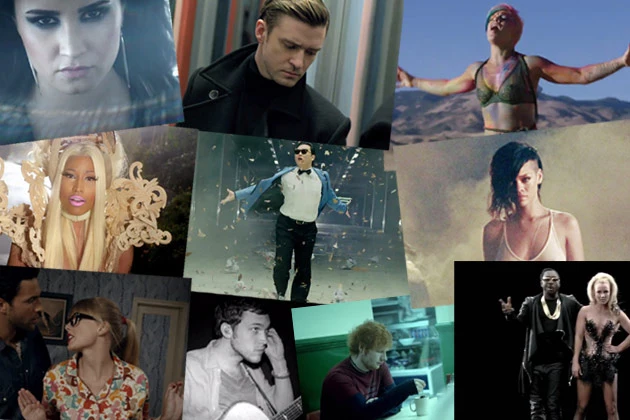 The 2013 MuchMusic Video Awards are just around the corner, so before the show airs on Fuse on June 16 at 9PM ET, we wanted all of you pop fans to weigh in on which solo artist deserves the trophy for International Video of the Year. There's some serious competition in this category, so it will be interesting to see which singer or rapper comes out on top!
You can check out the full list of nominated artists and their respective videos below — we've included links to each video too, in case your memory needs a bit of refreshing. This poll will close at 8:59 PM ET, right before the 2013 MuchMusic Video Awards air on Fuse at 9PM ET on Sunday, June 16. So go on and get yo votin' on!
Demi Lovato, 'Heart Attack': Demi goes from dark to light in 'Heart Attack,' getting her rock star on in leather during live performance shots, and getting more artsy as she paints her hands black while belting the single. [WATCH HERE]
Ed Sheeran, 'Give Me Love': Ed is hardly in his 'Give Me Love' video, and instead casted a beautiful blond leading lady to portray a Cupid-esque character. She assists people on their quest to find love… even though she gets lonely in the process. [WATCH HERE]
Justin Timberlake, 'Mirrors': When JT he isn't soul searching in his room full of mirrors, we follow the path of a couple all the way from their first days together up until they're elderly — it's appropriate material considering the crooner actually dedicated the clip to his grandparents.  [WATCH HERE]
Nicki Minaj, 'Va Va Voom': The Harajuku Barbie is living in her own fantasy world in 'Va Va Voom,' portraying a variety of fantastic princesses. Her costumes are absolutely killer, and the majestic settings and subtle plot line add to its wow factor. [WATCH HERE]
Phillip Phillips, 'Home': The folk-y 'American Idol' winner ditches the theatrics and keeps it real in his 'Home' video, which includes behind-the-scenes footage from Phillips' tour stops and travels around the country.  [WATCH HERE]
Pink, 'Try': What else can we even say about Pink's 'Try' video other than it's absolutely flawless? That choreography is some of the best we've ever seen, and the emotion with which she delivers her performance is absolutely mind-blowing. [WATCH HERE]
Psy, 'Gangnam Style': There's a reason 'Gangnam Style' is one of the most-watched videos ever. The viral K-pop sensation known as Psy goes absolutely H.A.M. in this kooky, colorful and crazy entertaining clip, dancing his booty off and engaging in a bunch of ridiculous scenarios. [WATCH HERE]
Rihanna, 'Diamonds': The Bajan beauty gets deep in her 'Diamonds' clip, and even though her relationship with Chris Brown might be kaput, the raw emotion she displays in the water-soaked, smokey and ultra moody clip about an undying love really shines "bright like a diamond." [WATCH HERE]
Taylor Swift, 'We Are Never Ever Getting Back Together': The 'Red' hit maker had one of the biggest hits of her career with 'WANEGBT,' so she naturally needed an amazing clip to match. The super fun video is one-shot, and Taylor had to run around changing costumes in the blink of an eye to make it work. [WATCH HERE]
Will.i.am, 'Scream & Shout' Feat. Britney Spears: Will and Brit are true superstars, so they don't need a bunch of crazy special effects to wow their audience. The stark backgrounds in 'Scream & Shout' are highlighted by continuous shots of both singers, and Brit looks so fierce in her duds, we can hardly stand it. [WATCH HERE]