The 5 Best + 5 Worst Moments From The 2016 Golden Globes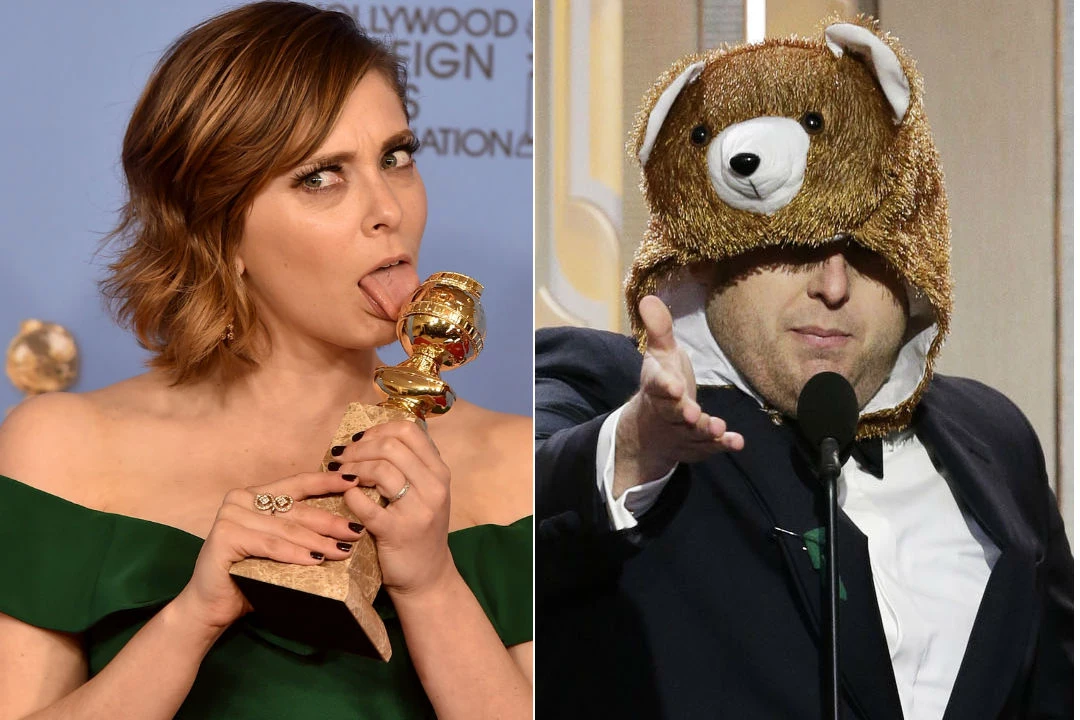 "I'm looking forward to it being over," 2016 Golden Globe Awards host Ricky Gervais said toward the top of the production. And for better or worse, it is.
Tonight, between The Revenant's big win and more censoring than could be found in Fahrenheit 451, the annual show succeeded in helping some stars to shine (Leonardo DiCaprio and Jennifer Lawrence had beautiful speeches), while casting light on others who imploded into black holes (Jonah Hill as a bear…need we say more).
Below, we've compiled the highs and lows of the ceremony's 73rd installment — look back at our list, and share what you thought was most memorable.
Best: Rachel Bloom Wins Best Actress in a TV Comedy Series
Subscribe to PopCrush on
In a category that included heavy-hitters Julia Louis-Dreyfus and Lily Tomlin, one of comedy's newest stars, who's pioneering a new music-comedy genre, got some deserved recognition for Crazy Ex-Girlfriend.
Worst: Matt Lauer Is Cringe-Worthy on The Red Carpet
I'm not crazy, right? Matt Lauer just made a joke about realizing it's cold out b/c he saw Kirsten Dunst in her dress? That's gross, @nbc

— J. Chlebus (@J_Chlebus) January 11, 2016
Among his clueless offenses? Alluding to hard nipples after seeing Kirsten Dunst's sexy dress.
Best: Taraji P. Henson Delivers DGAF Red Carpet Poses
Watching Taraji P. Henson hit every single damn pose is the best thing I'll see all night #SlayOn #GoldenGlobes pic.twitter.com/2OgJAxIdXW

— Jarett Wieselman (@JarettSays) January 11, 2016
Some stars aim for restraint or poise on the red carpet, but the Empire star decided to let it all out, instantly earning Vine- and Instagram-tributes.
Worst: Jonah Hill pretends to be a bear
Subscribe to PopCrush on
Not only was the actor's Revenant-themed shtick a little bit too obscure to get laughs, Hill swore so much that audio was pretty much censored through the duration. Like Jane Fonda, many were not amused.
Best: Sylvester Stallone (Finally!) Wins For Best Supporting Actor in a Movie
Subscribe to PopCrush on
The Creed star earned a deserved standing ovation, and noted "I want to thank my imaginary friend Rocky Balboa" during his acceptance speech.
Worst: NBC Tech Issues
This is quite shoddy so far! TelePrompTer delays and cameraman never focusing on the right nominee #GoldenGlobes @nbc

— Jess Dougherty (@_jsycar_) January 11, 2016
Red carpet mics were essentially useless, commercial breaks were clunky and teleprompters were totally off for a few presenters.
Best: Aziz Ansari Pre-Prepares Gracious Defeat
.@azizansari read the wrong book. #congratsgael #goldenglobes pic.twitter.com/8BIKGBsiAy

— Golden Globe Awards (@goldenglobes) January 11, 2016
The Master of None star was prepared to lose to Transparent's Jeffrey Tambor, the favorite for Best Actor: TV Comedy, but it was actually Gael García Bernal who took the prize.
Worst: Ricky Gervais and Mel Gibson Have a Heated, Pathetic Exchange
Subscribe to PopCrush on
A longtime target of Gervais' comedy, Gibson didn't take too kindly to the host's jokes, and spoke his mind when Gervais introduced him as a presenter. Problem was, the audience had essentially no idea what the men were saying (beyond audio-blurring obscenities), or where conversation led.
Best: The Woman Behind Cookie Lyon Hands Out Cookies
Cookies for everybody! Congrats Taraji! #Empire #GoldenGlobes pic.twitter.com/FUL6EXROol

— Jarett Wieselman (@JarettSays) January 11, 2016
Taraji P. Henson, the woman behind Empire's Cookie Lyon, handed out her character's eponymous desserts to the crowd after winning the award for Best Actress in a TV Drama Series.
Worst: How True Eva Longoria + America Ferrera's Jokes Were
Subscribe to PopCrush on
The actresses lamented the frequency with which they're confused for their Latina contemporaries. It was funny as hell, but also scary for how truthfully it resonated — almost immediately, MTV Australia tweeted (then deleted) that the segment needed subtitles, a potentially sarcastic but way off-the-mark assessment.
That's not how you do sarcasm. @MTVAUSTRALIA asks for subtitles for @EvaLongoria @AmericaFerrera Golden Globes joke. https://t.co/Mhx3w09yeF

— Jen Ryall (@jennijenni) January 11, 2016
<p style="text-align: center;"><strong>The Biggest Snubs and Surprises of the 2016 Golden Globe Awards:</strong></p>
Look back at some hilarious moments from Golden Globe shows past:
Subscribe to PopCrush on