Phillip Phillips Had Crowd 'Beggin'' for More With Madcon Cover on 'American Idol'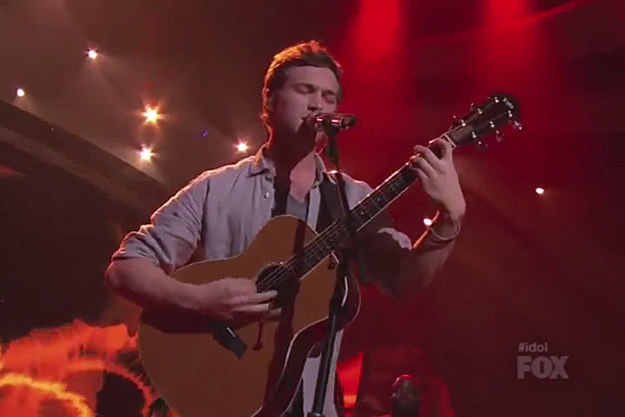 Show after show, the judges have wanted Phillip Phillips to sing through the melody of a song on 'American Idol.' When they were given a chance to choose a song for him, they chose one they thought would force him to sing a melody and really shine: 'Beggin'' by Madcon. Did it work?
The answer to that is a little bit yes and a little bit no. As is his style, Phillips did his own thing. He was on stage with his acoustic guitar and rocking to his own groove. What he didn't do is stick to the melody of the song that the judges were hoping to hear. But that didn't matter. The judges ate it up.
Jennifer Lopez started the comments by telling Phillips he was funny, because once again, he skirted the melody of a song. He did his own thing even after the judges specifically selected that song so he wouldn't. She said, "You can't help it. You gotta mess with it. You catch a groove in a song and you just ride that all the way home. It was great."
And she wasn't alone in her sentiments. Steven Tyler agreed that his performance was fantastic. He told Phillips how beautiful it's been to watch him unfold. He then paid Phillips this giant compliment: "I'm hoping you are writing your own songs, because you can be a new age Boss. You can be the new Springstein."
As he does every week, Phillips commanded the stage and showed that he is ready to be a performer on his own. Randy Jackson noticed saying, "We were just at the Phil Phillips concert. That was another incredible performance by you." Jackson finished it up by telling Phillips what every girl in the audience has been trying to shout at him for weeks now: "You are who you are and we love it."
Watch Phillip Phillips Perform 'Beggin" on 'American Idol'