Azealia Banks Throws Shade at Rita Ora, Calls Her Rihanna's 'Understudy'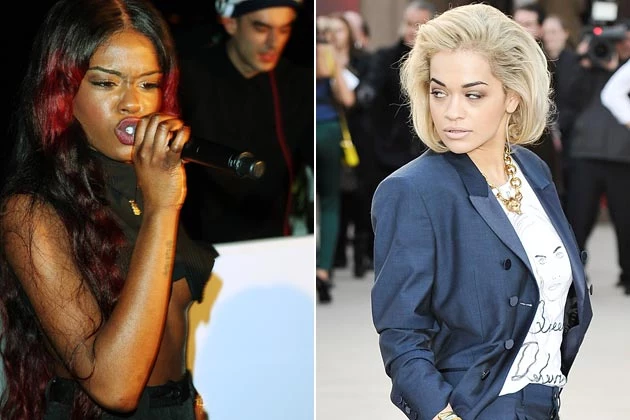 Time for a good, old fashioned, hair-pulling cat fight.
Azealia Banks has thrown some serious shade at Rita Ora via a bit of a Twitter rampage, calling her Rihanna's "understudy" and saying that the Jay-Z protégé has been trying to intimidate her as they tour Australia. Hey, Azealia, maybe you can call up Rob Kardashian, since he has similar feelings about Miss Ora.
Banks, who grabs headlines for her many feuds, posted a supposed text from Ora, captioning it "Shut up Rita Oral." There are a bunch of cuss words in it, with Ora stepping to Banks about talking smack. You can see that image here. She's really airing some filthy laundry, isn't she?
Below are Bank's tweets, where she verbally starts a "row" with the British singer.
She's mad she's Rihanna's understudy.

— YUNG RAPUNXEL (@AZEALIABANKS) March 10, 2013
Shut up Rita Oral. @ritaora instagr.am/p/WsjW-0n1Uz/

— YUNG RAPUNXEL (@AZEALIABANKS) March 10, 2013
Ever since I arrived on this tour Rita's been going out of her way to try and intimidate me.

— YUNG RAPUNXEL (@AZEALIABANKS) March 11, 2013
She added, "Taking all these candids of me when I wasn't looking, then posting and deleting them like a weak b—-."
Banks has beefed with Coldplay's manager and Nicki Minaj. She's always battling someone over something, instead of focusing on her music. She can't help herself, it seems.
She was briefly managed by Lady Gaga's beloved Troy Carter for a minute, but it didn't last. Clearly, she's got a proclivity for fighting with those around her and for drama.
Banks is going to remain broke with expensive taste if she doesn't slow her roll and stop arguing with everyone. All these fights make her look cray cray or prove that she is indeed just that.
Watch the Rita Ora 'How We Do' Video
Subscribe to PopCrush on