Best Songs We Heard This Week: AlunaGeorge, PJ Harvey, Panic! At The Disco + More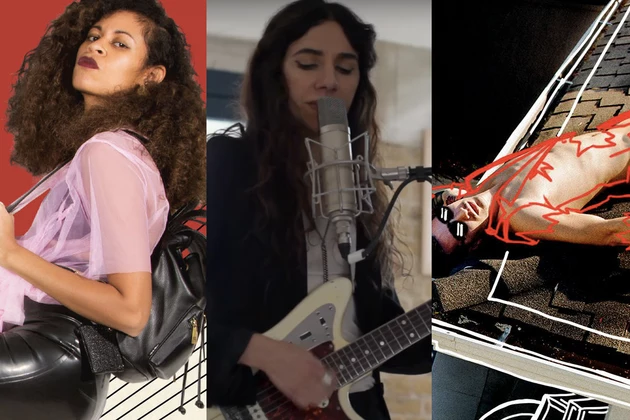 TGIF, PopCrush readers! Here's hoping Winter Storm Jonas doesn't ruin your whole weekend. But just in case you are stuck inside, we've got more than a few new tunes to keep you entertained.
Between crashing, jagged guitars to the grand return of "Oops (Oh My)" Queen Tweet herself, we've got plenty to keep your playlists fresh. And if you like our picks, make sure to subscribe to us on Apple Music for even more playlists.
And now, onto our picks of the week!
Subscribe to PopCrush on
Tweet, "Magic"
With a single wave of her neo-soul wand, Tweet (real name Charlene Keys), who most famously uttered "Oops" in 2002, delivers "Magic." Straight from her forthcoming, eponymous Charlene, her first album in 11 years, the singer stokes a slow, familiar fire built on breathy but thick purrs and relaxed, grooving interplays. Tweet told Essence she had given up on music not long ago, but has found her footing again, and is aiming for something timeless that doesn't pander to charts. "I just want to put the album out and let God orchestrate it," she said. "I'll be fine." — Matthew Donnelly
Subscribe to PopCrush on
Savages, "Adore"
Savages' 2013 album Silence Yourself has proven to be a tough act to follow: All thrashing guitars and unbridled fury, it was a riotous response to a largely stagnant scene, and successfully lit a fire beneath even your most hardcore post-punk outfits. Their followup album Adore Life sticks largely to that debut rough-and-toughness (particularly in killer lead single "The Answer"), but the PJ Harvey-inspired "Adore" is an unexpected exercise in restraint. All moody atmospherics, static guitars and brooding lyrics ("If only I didn't wish to die / Is it human to adore life?"), "Adore" is a meticulously crafted slow-build, finally careening off its edge nearly five minutes in. — Ali Szubiak
Subscribe to PopCrush on
Laura Mvula, "Overcome (feat. Nile Rodgers)"
BBC Sound of 2013 nominee Laura Mvula's debut, Sing to the Moon, won the talented singer heaps of critical acclaim, including nominations at the BRITs, the Ivor Novello Awards and even an international nod from the BET Awards. She returns at last in 2016 with "Overcome," a triumphant and entirely inspiring anthem backed by the familiar, funky guitar sound of disco legend, Nile Rodgers. With any luck, this will be the one to push her over the edge in America. "We're all going through something, but even 'the caged bird sings of freedom'," she told FADER of the symbolism-filled accompanying video. Between that arresting voice, the clip's striking imagery and choreography and the soul-stirring message behind the song, no one would blame you for feeling ever so slightly overwhelmed. — Bradley Stern
PJ Harvey, "The Wheel"
The recording sessions for the British singer-songwriter's upcoming album, The Hope Six Demolition Project, were open to the public as an art installation at London's Somerset House in early 2015. With its driving handclaps and sax tones that would make Roxy Music jealous, "The Wheel" arrived in an album trailer that finally previews the results. Given the exceptionally consistent body of work she's put forth since 1992's Dry, the fact that it's great is no surprise. And while "The Wheel" is a distant sonic cousin to "The Words That Maketh Murder" from her previous release — longtime collaborators John Parish and Flood co-produced both with her — there are far worse things than picking up where Let England Shake left off. – Samantha Vincenty
Ray LaMontagne, "Hey, No Pressure"
LaMontagne told NPR the tracks featured on Ouroboros, due out in March, came to him like a vision – to which we say: may he never snap back into reality. The Jim James-produced "Pressure" – a sneak peek into the forthcoming concept LP – takes the singer's penchant for sap and reduces it to rawer, electric guitar-dressed granules typically befitting of the Black Keys or Mute Math. LaMontagne is the same singer that made "Shelter" and "Trouble" hits with fans, but here, he's turned the cozy coffee shop into a biker bar…at least for one night. — Matthew Donnelly
Subscribe to PopCrush on
Panic! at the Disco, "Death of a Bachelor"
Former scene standouts Panic! at the Disco have lived a thousand lives since their 2005 emo-pop debut. Band members have fought and fled, punctuation has come and gone (and come back again) and a continual shift in sound has left their legacy on unsteady ground. Mercifully, the dust seems to have finally settled, as the band's sole remaining member Brendon Urie insists on moving full speed ahead, despite being consistently pummeled by the universe's increasingly cruel obstacle course. Still, his latest release, Death of a Bachelor, is a largely successful marriage: Panic!'s debut baroque pop melds well with Urie's newly evolved Sinatra-inspired vocals. Urie is a Las Vegas native, and he explores that showmanship with overarching zeal on the title track: Heavy on both brass and theatricality, the song explodes in its chorus, delivering a winning combination of pop, rock and a slight hint of jazz. Panic! may not be the same band it was a decade ago, but they're all the better for it. — Ali Szubiak
Subscribe to PopCrush on
St. Lucia, "Help Me Run Away"
Retro-influenced electropop is de rigueur these days — but while artists like Taylor Swift and Brandon Flowers present a modern-day twist on the sound, St. Lucia goes full throwback on "Help Me Run Away." And thank god he did! At the dawn of Morbid '16, in which beloved entertainers are passing away in jarring succession, we need more immaculately-crafted frivolity like this to lift our spirits. Jean-Philip Grobler's latest could soundtrack every '80s movie montage that features a young Michael J. Fox type high-fiving a school mascot before sliding down a banister and landing on a skateboard, and the synths are as shimmery and glam as Molly Ringwald's Pretty In Pink prom dress. – Samantha Vincenty
Subscribe to PopCrush on
AlunaGeorge, "I'm In Control (feat. Popcaan)"
Three years after releasing their debut album Body Music, Aluna Francis and George Reid return with force: Likely inspired by their collaboration with Jack Ü ("To Ü"), "I'm In Control," the lead single from AlunaGeorge's upcoming I Remember, finds Aluna heading into the club amid tropical house-pop pulsations du jour, complete with a contribution from Jamaican dancehall star Popcaan. True to the track's title, it's a wholly self-assured opening statement from the duo — and one hell of a danceable groove. — Bradley Stern