Best Songs We Heard This Week: The Knocks, Kiiara, Alex Newell + More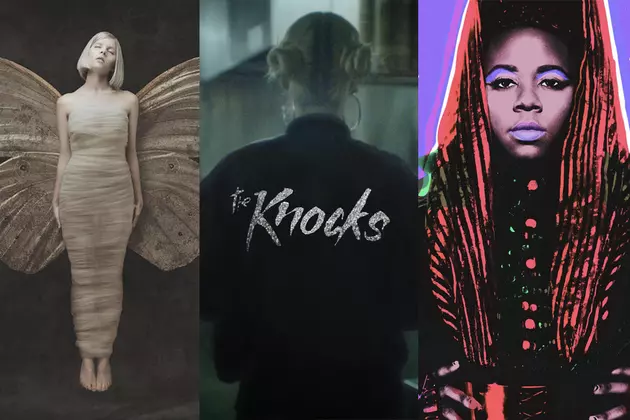 Happy Friday, PopCrush readers! It's time yet again to serve up the best offerings of the week on this glorious New Music Friday, just before you set out for the (long) weekend.
From early PopCrush Presents favorites to dance divas and guitar-shredding newbies, we've got a diverse set of sounds that ought to appeal to just about everyone's playlists. And if you like our picks, make sure to subscribe to us on Apple Music for even more playlists.
And now, onto our picks…
Subscribe to PopCrush on
Aurora, "Conqueror"
The Norwegian singer's latest carries the same impact as her breakthrough track "Running With the Wolves," though the production is much sunnier. Aurora (a onetime PopCrush Presents feature) sounds elated over lush production and pounding drums, singing that she's "been looking for the conqueror / But you don't seen to come my way." Is it a love song? An I-want-to-fall-in-love song? Not sure, but the "Conqueror" is crushworthy. — Samantha Vincenty
Subscribe to PopCrush on
Alex Newell, "This Ain't Over"
Step your game up, disco divas: Alex Newell's coming through. After putting in work as Unique Adams on Glee and hopping on cuts for Clean Bandit and The Knocks, the fiercely talented singer is now setting his sights on the dance floor all on his own with "This Ain't Over," a euphoric, triumphant '90s House-flavored call to arms from his upcoming POWER EP, crafted with industry vets Diane Warren and Nile Rodgers. The feeling that comes when you prove those doubters wrong? Indescribable — although this comes pretty close. — Bradley Stern
Pouty, "Now"
The recent resurgence of lo-fi '90s garage rock is a welcome change from all that high-sheen, '80s glitter and synth we've been consistently served on the radio over the past few years. There's a time and a place for all that, but sometimes you just want to bang your head against a wall in time with thrashing guitars, and newcomers Pouty offer up a suitable soundtrack with their debut EP Take Me To Honey Island. Standout track "Now" is a high-energy sonic thrust, expertly marrying a garbled bass line and some no-frills grunge guitars with sweet, pop-inspired vocals. Rachel Gagliardi — Pouty's leading force and one-half of excellent punk outfit Slutever — lends just the right amount of bratty affectations to the song's chorus with a repetitive "I want it now," ending just before things have a chance to get stale. May the guitar revolution continue on in all its fevered, overdue glory. — Ali Szubiak
Subscribe to PopCrush on
Rationale, "Something For Nothing"
The London-based singer and producer told Pigeons and Planes he let his love of bassline dictate his latest – the result is sunken pitch that could swallow listeners whole. "Something For Nothing," inspired by the works of Marvin Gaye, Prince and Quincy Jones, is a satisfying dichotomy of relaxed, groovy soul and more urgent, synthy pop spasms. The song's an optimistic departure from the Zimbabwe-born artist's glummer Fuel To The Fire EP, but we're happy to ride the upturn. — Matthew Donnelly
Subscribe to PopCrush on
The Knocks featuring Wyclef Jean, "Kiss The Sky"
The Knocks have utterly exploded straight out of the gates in 2016, announcing their (long, long overdue) debut album 55 with an enviable array of features, including Carly Rae Jepsen and Fetty Wap. And if "Kiss The Sky," their ridiculously infectious, Wyclef Jean-assisted dance floor anthem is any indication, they're coming with an early best album of the year. Wyclef's mile-a-minute verses are nothing less than awe-inducing, and that tropical burst of euphoria in the chorus ought to provide the warmth needed to propel us right into summer. — Bradley Stern
The 1975, "The Sound"
Brit rockers The 1975 may turn your more pretension-averse listeners off with their mouthful of an album title (the lengthy I Like It When You Sleep For You Are So Beautiful Yet So Unaware Of It), and it's a shame: Their latest release "The Sound" is an enormous pop record, unabashed in its ear-worm sensibility. It maintains the '80s feel of lead single "Love Me," minus all those abrasive guitars, opting for bouncing piano and pulsing synths instead. The track is a lusty nod to getting off, and frontman Matt Healy channels every terrible one-night stand you've ever had when he sings, "It's not about reciprocation / It's all about me," but damn if that doesn't sound good anyway. — Ali Szubiak
Subscribe to PopCrush on
Kiiara, "Feels"
Rising vocalist Kiiara's "Feels" got an official release this Friday, though its been garnering healthy YouTube streams since last summer. The sound is a departure from her sultry, bass-driven previous single "Gold"; it's more reminiscent of The Weeknd's sleepy, pill-stoned soliloquies. But Kiiara's lilt cuts through the multi-layered production, making me feel (as she sings) pleasantly "faded when I'm sober." — Samantha Vincenty
Subscribe to PopCrush on
Weezer, "King of the World"
The new calendar year might read 2016, but as far as Weezer are concerned, we might as well take a second pass at 1994 instead. "King of the World," the third single from the alt rock group's forthcoming tenth studio album, draws from the kooky, off-key charm of the group's Blue Album-debut, and could find a comfortable seat between "My Name Is Jonas" and "Undone." "Dad hit you on the hand just for holding your chopsticks wrong / Then your mom locked you in a shed and Uncle Sam dropped an atom bomb," Rivers Cuomo croons across staccato hits before towering to a signature strained holler. He and his bandmates might be pushing 50, but damn if they're not still the coolest high school nerds around. — Matthew Donnelly
16 Most Anticipated Albums of 2016