Is There a Boy Band Feud Between The Wanted + One Direction?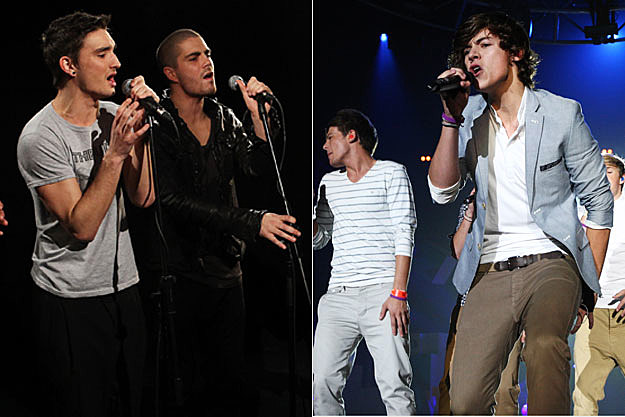 Is there a feud brewing between U.K. boy bands the Wanted and One Direction? The Wanted's Max George and Nathan Sykes insulted One Direction by saying they only appeal to children, before backtracking on Twitter and offering a semi-apology.
George spoke about his band's success in America with 'Glad You Came,' which has risen to No. 4. He said people take the Wanted more seriously than One Direction: "I'm not sure how well they're actually doing yet. They're more faces, if you know what I mean. I don't think people really look at us over there as the same kind of band, because I think people look at them more like a Jonas Brothers sort of band that are very TV and children's magazine based." George added that his band has a more respectable fan base in the U.S. "I think our audience over there is sort of 18 to 25 or 30. We have a lot of radio play but I think we're more of a music band," he said.
George also seemed offended that One Direction, who formed on a singing competition show, haven't made an effort to get to know the Wanted or any other British bands: "We don't talk. The 'X Factor' family stick together. They're very close, you know, all the 'X Factor' contestants, and they kind of stay in that one circle normally."
The Wanted's Nathan Sykes also reportedly said, "If you look at One Direction's chart position and then look at ours, they're not really even our rivals. They have different fans to us. We don't want their fans, they're too young. We laugh and say that their fans are our fans' younger sisters."
Naturally, fans of One Direction and their hit 'What Makes You Beautiful' weren't too thrilled with these remarks. MTV UK reports that Max took to Twitter to make peace. In since-deleted tweets, he wrote, "Just to clear up… I think interviews have been twisted and made into much dramatic than what they were.. We appreciate all other artists. And all fans of any age, whether you're 1 or 90. Anyone who says or thinks different is full of s—. Hope this puts peoples minds at rest xx"
Sykes also said on Twitter that his words had been taken out of context, adding, "Getting so fed up of people trying to make rivalries between people who actually get on within this business!! #rant"
A source reportedly told Heat magazine, "The Wanted totally freaked out when their management told them that slagging off One Direction could turn their fans against them. That's why they tweeted saying that it had 'all been blown out of proportion'. It was their way of apologizing." Another insider told Heat that One Direction are not happy: "They're angry about The Wanted slagging them off. They think it's a low blow and they were shocked that Max would say that."