Britney Spears Is Adding 'Breathe On Me' to Her 'Piece Of Me' Las Vegas Residency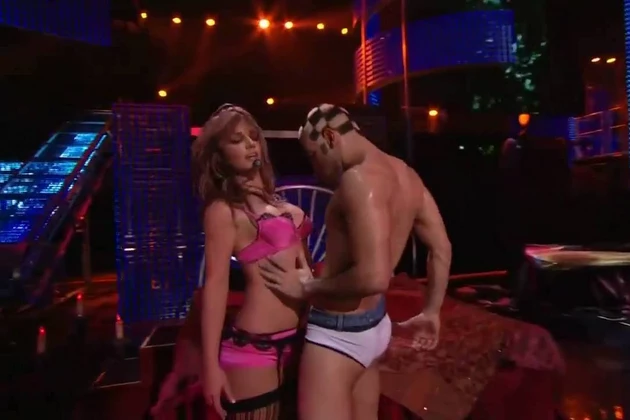 To say "Breathe On Me" is a Britney Spears fan favorite is an immense understatement, which is probably why the Britney Army is in utter meltdown mode this evening.
In the middle of Instagramming photos of delicious cheesy corn she Googled and hugging up against bearded men, Britney's also been busy rehearsing for her Piece Of Me residency revamp in Las Vegas beginning on February 13, which promises to be a pretty major retooling of the original show.
Tonight (January 20), she's provided one massive reason to get excited, grab a hold of your Singles Collection box set and start booking those flights to McCarran International Airport ASAP: She's adding In The Zone throbber, "Breathe On Me," to the setlist.
In not one, but two rehearsal clips (we're entirely unworthy), Britney revealed some of the cool, urban 'n sultry moves she's supplying to her latest live rendition of "Breathe On Me," consisting of body rolls, hair flips, high kicks and some rather up close and personal (her most personal to date!) moves with her female dancers. Plus, some friendly hand-holding for good measure!
Although never an official single (due to the knee-injury-that-shall-not-be-named on the set of "Outrageous," which unceremoniously wrapped up the era), the throbbing sex jam became a live staple, including her ABC In The Zone special, The Onyx Hotel Tour and the Circus Tour.
The track is arguably Britney's sexiest offering ever (a lusty companion to "Touch Of My Hand," of course), complete with moans, groans, a soaring climax — even a nod to Lauren Bacall's iconic, innuendo-filled line from 1944's To Have And Have Not: "You know how to whistle, don't you Steve? You just put your lips together…and blow."
And there you have it: Godney heard our prayers. Until February rolls around? Baby, just breathe…
Subscribe to PopCrush on
Iconic Stage Looks From Britney Spears + More: