Celebs Who Are Surprisingly Twins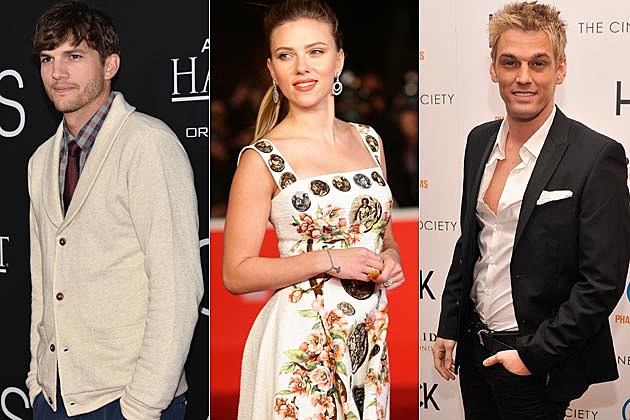 Twin births have become increasingly popular in the celeb world in the past decade or so.
Brangelina, Jennifer Lopez, Mariah Carey, Rebecca Romijn, Anna Paquin and Stephen Moyer, Julia Roberts, Celine Dion and more welcoming multiples into their lives, but as parents. There are plenty of celebs, actors and pops stars that are twins themselves, with siblings who are less famous!
You might surprised which A-list superstar has a fraternal twin with cerebral palsy, which has boy bander has an identical twin and which Canadian songbird has a twin brother.
See which celebs and pop stars have shared a womb with a twin, be it from the same fertilized egg that splits to form two embryos (identical) or from two separate eggs (fraternal).
And that concludes our biology lesson for today.
The pillow-lipped actress has a twin brother, Hunter. What great, regal names, right? They acted together in 1996's 'Manny & Lo' and they are quite an attractive pair, aren't they? While Scar Jo often finds herself topping many "Sexiest" lists, her brother has embarked on a political career and even worked for President Obama.
Dimitrios Kambouris, Getty Images
Wait a second! Gisele Bundchen, the hottest supermodel on the planet, has a twin? So there are TWO of 'em? Yep, the Brazilian beauty has a fraternal twin named Patricia (on the right in the photo) who also modeled. Now she manages her sister's PR. Their dad probably hated it when his baby girls got to dating age!
Gustavo Caballero, Getty Images
Twice is nice! Actor Vin Diesel's real name is Mark Vincent. His fraternal twin is Paul Vincent. Paul is said to look like Vin and works in the industry as a film editor. Our first thought? Does he have the same raspy voice as Vin? Don't pretend like you didn't ask yourself the same question, 'Crushers.
Jason Merritt, Getty Images
Ashton Kutcher has a fraternal twin brother Michael, who suffers from cerebral palsy. You can learn a little more about Ashton's bro by watching this news item about him. While his brother went on to achieve Hollywood stardom, Michael, who underwent a heart transplant when he was younger, has carved out a good life for himself, too!
Adam Bettcher, Getty Images
Canadian singer and former angst queen Alanis Morissette has a twin brother named Wade. Shocking, right? We don't know too much about him other than that he is musician and is a yoga enthusiast. See him here. We're thinking it's high time a major duet with his sister is in order.
Jason Merritt, Getty Images
The former teen sensation Aaron Carter has a twin sister Angel, who is a model. There is a lot of talent in the Carter family, as older brother Nick is a Backstreet Boy. We have to wonder if Angel was Team Lindsay or Team Hilary when Lohan and Duff battled over her twin bro. 'Member that era?
Michael Tran Archive, Getty Images
The Wanted's darkly handsome Siva Kaneswaran has a twin brother named Kumar who looks exactly like him! And yes, they are identical. The twins appeared on 'Rock Rivals' back in 2008. If Siva ever gets sick or needs a timeout from the Wanted, we bet Kumar could step in and we'd be none the wiser.
Christopher Polk, Getty Images
Napoleon Dynamite squared!? Actor Jon Heder has a twin brother Dan, who works as an animator. The Bros. Heder are identical. We had trouble telling 'em apart. That's Jon on the left and Dan on the right, with the beard.
David Livingston, Getty Images
Pop singer and British 'X Factor' star Olly Murs has a fraternal twin, Ben, from whom he is currently estranged. Boo! Olly put work first, hitting an 'X Factor' semi-finals rehearsal instead of attending his brother's wedding in 2009. The ceremony was only 16 miles away and his mentor Simon Cowell advised the 'Troublemaker' singer against going. As a result, Olly and Ben have not spoken since. Ouch. It's worth noting that Olly has said he hopes his bro is happy.
Zak Hussein, Getty Images
The Welsh singer Duffy, born Amie Ann Kelly, is known for her smoky, husky, old soul voice and hits like 'Mercy.' She also has a twin sister named Katy Ann Kelly. Same womb, same middle name.
Chris Jackson, Getty Images