Chris Brown Glows in the Dark in New Boyz's 'Better With the Lights Off' Video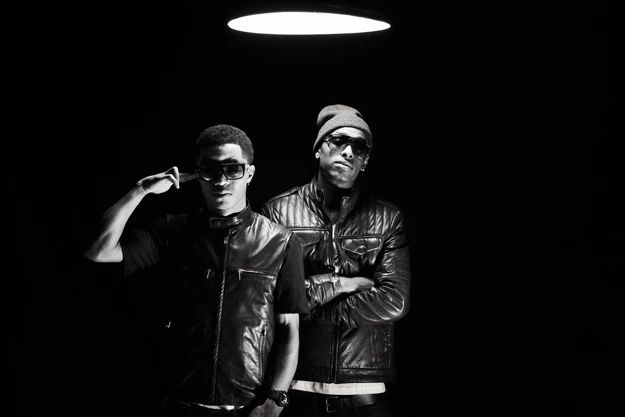 New Boyz have released a brand new video for their Chris Brown-assisted single, 'Better With the Lights Off,' in which the R&B/hip-hop star glows in the dark for the rap duo.
Director Colin Tilley creates a stark contrast in the video, showing Legacy and Ben J out in the California sunshine and Brown in a blacklight wonderland. The singer, who provides the super-catchy hook of the song, glows on the screen in a fluorescent green jumpsuit, while the jerkin' stars hang with the ladies in L.A.'s Echo Park.
The popular director, who has helmed Brown's 'Next 2 You' and 'Look at Me Now' videos, is able to capture the spirit of the song, which talks about being with a beauty, but preferring to have his way with her. The song's chorus plainly explains, "Girl, you look better with the lights off."
The pop track was produced by the Cataracs, who are featured on New Boyz's single 'Backseat,' and is the second single from the Cali rappers' sophomore album, 'Too Cool to Care.' As far as their collaboration with Brown, Ben J explained that Brown quickly became one of the "boyz."
"He's got so much energy, he's just like a big ol' kid that likes to have fun. Even though every girl screams for him in the world, he's cool and so humble," Ben J said in our exclusive interview. "Like I said, he's goofy just like me and Legacy, you know, we're immature kids and that's how he was acting. When somebody comes that's just like us it's just cool."
Watch the New Boyz 'Better With the Lights Off' Video Feat. Chris Brown