Chris Brown Wants to Work With Elton John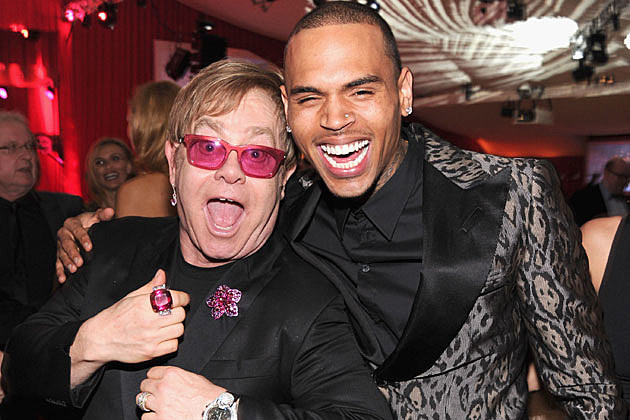 Chris Brown, a noted homophobic slur enthusiast, told New York Post's Page Six that he would like to work with Elton John.
The newspaper caught up with the R&B singer at the Elton John AIDS Foundation party on Oscar night where the controversial artist told them, "I met Elton about a year ago, and he's been a good friend to me. So it is great to be here tonight to support him."
Anyone else getting a whiff of that big steaming bowl of contradiction? Brown continued, "Music is music. It transcends everything, so I would love it if we could work together." *Sigh*
Music is universal, but would Elton collaborate with an artist who has such a storied history of spewing hate speech? Yes, Elton worked with Eminem after many criticized his homophobic lyrics, but Brown has a well-documented history with using slurs in everyday situations. For those who have lost track (we know we have) — there was the Frank Ocean brawl, the fan altercation,  the TMZ tiff, and the basketball blowup.
Brown also confirmed his relationship with Rihanna saying, "We are back together. She is the most beautiful girl in the world. But I'm sad she couldn't be here tonight; she is rehearsing for her tour."
Maybe Breezy will use a potential collabo with Elton John to clean up his mouth. We can only dream…
Watch the Chris Brown 'Don't Judge Me' Video
Subscribe to PopCrush on