Where Is Thor's Mighty Hair? Chris Hemsworth Explains His Character's Jarring New Look
No, it's not one of Loki's trickster illusions: Like the Norse god's mighty hammer in Marvel's first film featuring Chris Hemsworth, Thor's hair has been snatched!
The superhero's signature long blonde locks are missing on the cover of Entertainment Weekly's latest issue, which features the stars of Thor: Ragnarok—a jarringly different-looking Hemsworth included.
"It was nice not to have to sit in the makeup chair for that hour each morning," Hemsworth told the magazine of his new 'do. "It felt like a rebirth for me as the actor but also as the character."
Meanwhile, fans are shorn— excuse me, torn, over the actor's short hair:
thor is not thor without long hair and mjölnir

— (@buckyeet) March 8, 2017
#ThorRagnarok RIP Thor's hair. I see you didn't survive 2016 as well.

— SkywalkerStrike (@ijaaz7) March 8, 2017
Whoever at Marvel is responsible, hear this: THOR NEEDS LONG HAIR. It's kind of the whole point. He needs to look ridiculous AND cool.

— Darren Hayes (@darrenhayes) March 9, 2017
Hate to sound like a complainer, but not into the new Thor look. At. All.

If the hair is long, the hero is strong.

Write that down.

— Eric Calderone (@331EROCK) March 9, 2017
(•_•)
<) )╯Short Hair Thor
/

(•_•)
( (> Short
/

(•_•)
<) )> Hair
/

(•_•)
<) )╯Thor
/

— Andrew Wheeler (@Wheeler) March 9, 2017
MY HAIR?¿?! MY BEAUTIFUL….HAIR
MUST BE A TRICK OF LOKI OR…
I AM MY HAIR
I AM A BROKEN GOD

— THOR (@THOR_SON_OFODIN) March 9, 2017
#ThorRagnarok R.I.P. beautiful hair#Thor pic.twitter.com/rdgVE0dS1T

— Marie (@FordMcCartney) March 8, 2017
i feel like by cutting off nearly all of thor's hair marvel has unleashed a curse upon all the land & we will all suffer and die pic.twitter.com/gzCnGvaKzB

— angela (@captaindeadpooI) March 9, 2017
Does that mean we'll have Bucky and Thor with short hair in Avengers: Infinity War pic.twitter.com/YXG6bCDyuL

— manu (@LEGlONS) March 8, 2017
Barber Shop—whoops, I mean, Thor: Ragnarok opens November 3. See Thor's new look on the cover of Entertainment Weekly, below.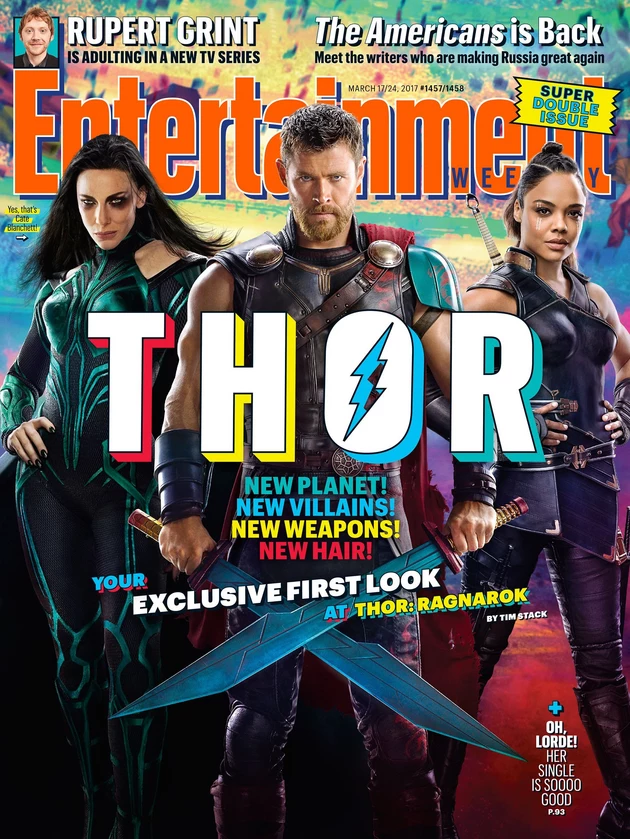 Pop Stars and The Superheroes They Remind Us Of: