Ed Sheeran Talks Giving Back, Going Country, Gossip + Grills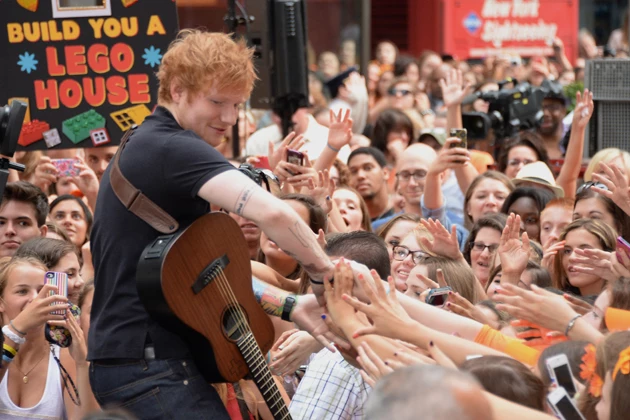 Ed Sheeran is taking a few pages from Red tourmate Taylor Swift's book: He's considering going country!
"Country music is some of the best-written music in the world, so yeah, one day, I would keep my mind open to doing a country record," he told Yahoo of his somewhat reverse-course from Swift's career. "Hunter Hayes has some sick music," he said. "There's so much good country music out there."
In case he doesn't go country, he may go hip-hop, a la Miley Cyrus. "I am actually going out after this to get my grill fitted. And I'm getting a chain and a hype man," the '+' singer cracked. "Just reassuring people that I am the s—. [My chain] will be a big thing of dog s— and like you'll look at it and be like, 'What's that?' And I will be like, 'That's the s—.'"
Something else he picked up from Swift — or at least that he shares with her? An extremely charitable nature. Sheeran revealed that his work with the East Anglia Children's Hospices is particularly close to his ginger lil' heart.
"I get to have a guitar that I customized, that I play live at shows, that goes on sale for my fans and all the proceeds go to charity," he said of his fundraising for the organization. "[East Anglia Children's Hospices] is really close to my home and my mum helps out there. I think that it's important to give to good causes, but it is also important to invest back into the community you came from."
As for his live performances with Swift, he's still in awe at the size of shrillness of their crowds. "Mums have an excuse to go nuts. The daughters are just chill," he chuckled. "They're enjoying their first concert. The mums are kind of reliving their youth a tiny bit."
And what about all that speculation that he and Swift are an item? (Or that he and Selena Gomez or an item?!)
"I am really surprised that people give a s–t, to be honest," he confessed. "It's weird. The world cares so much about who people are f–king. A lot of the time, it's not true. I read stories about myself and I am kind of like, 'Really? People believe that?'"