Madonna, One Direction + More Stars Remember David Bowie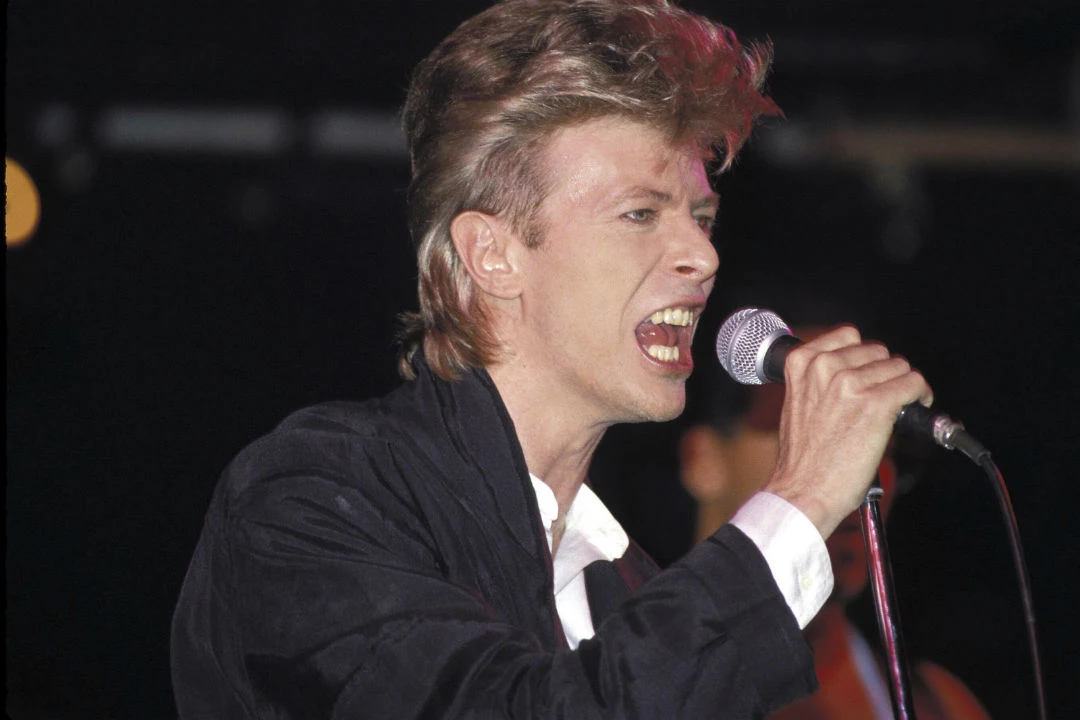 While the 2016 Golden Globe Awards celebrated the best in entertainment Sunday night (January 10), the industry's brightest stars were also forced to mourn the loss of one of their own: legendary musician David Bowie.
The eccentric, androgynous performer, famous for his penchant for reinvention, died after an 18-month battle with cancer at age 69, his website confirmed. Considering the impact of his career, which spanned multiple decades and included nearly 150 million albums sold, the news hit fans — and fellow artists — like a ton of bricks.
Artists like Madonna, Cher, The Rolling Stones and reporter Kurt Loder, who were active during some of Bowie's most compelling work through the 1970s and 1980s, expressed devastation at all that music had lost.
The Rolling Stones are shocked and deeply saddened to hear of the death of our dear friend David Bowie… 1/2

— The Rolling Stones (@RollingStones) January 11, 2016
As well as being a wonderful and kind man, he was an extraordinary artist, and a true original. 2/2 #DavidBowie

— The Rolling Stones (@RollingStones) January 11, 2016
DEVASTATED… A LEGEND IS GONE✨✨

— Cher (@cher) January 11, 2016
David Bowie was an innovator and a pioneer. We are so sad to see him go. He will be remembered! #RIPDavidBowie pic.twitter.com/zrQJaGXdf8

— The Doobie Brothers (@TheDoobieBros) January 11, 2016
RIP #DavidBowie: One of his most haunting lyrics (written with Iggy Pop): "Tonight," live with Tina Turner, 1985: https://t.co/Z916yuDJDa

— Kurt Loder (@kurt_loder) January 11, 2016
I feel like a little piece of my childhood just died #DavidBowie

— Molly Ringwald (@MollyRingwald) January 11, 2016
Still, more contemporary artists seemed equally shaken up, and Bowie's enduring legacy was clear between mini-memorials offered by One Direction members, Adam Lambert, Halsey and more.
Unthinkable. The world has lost one of the most important artists and icons of our time. I was moved immeasurably by David Bowie. RIP.

— Hozier (@Hozier) January 11, 2016
David Bowie you have been and will always be forever enshrined in my heart. I'm so sad for this loss.

— Leona Lewis (@leonalewis) January 11, 2016
David Bowie was a huge influence on me throughout my life. The original star-man returned to the stars…

— florence welch (@flo_tweet) January 11, 2016
Bowie's "Let's Dance" w @nilerodgers a few years back https://t.co/7gidnQF0NZ

— ADAM LAMBERT (@adamlambert) January 11, 2016
Very sad to wake up to the news of David Bowie's passing . He is a true music legend and his legacy will live on forever ..

— Niall Horan (@NiallOfficial) January 11, 2016
David Bowie was one of my most important inspirations, so fearless, so creative, he gave us magic for a lifetime.

— KANYE WEST (@kanyewest) January 11, 2016
.@codyspearz hell yeah. I went to 1D concerts in my Bowie shirt and earrings. Cause you can like more than one band. pic.twitter.com/ErsJBeJg7S

— HALSEY (@halsey) January 11, 2016
R.I.P David Bowie. U are and always will be a legend & will continue to inspire for generations….

— OneRepublic (@OneRepublic) January 11, 2016
It feels like we lost something elemental, as if an entire color is gone. #DavidBowie

— Carrie Brownstein (@Carrie_Rachel) January 11, 2016
David Bowie is one of the greatest artists to ever walk this earth. Now flying back thru the stars from whence he came We were so lucky⚡️

— Darren Criss (@DarrenCriss) January 11, 2016
I don't know where I'm going from here but I promise it won't be boring…RIP David Bowie ⚡️

— Foxes (@iamfoxes) January 11, 2016
While Lady Gaga, herself, hasn't offered her own reaction via social media, she has retweeted a sentiment posted by @clodaghmcginley that credits Bowie with inspiring Gaga's career and persona.
In all honesty, Gaga as we know her would not exist without David Bowie

— Clodagh Mc Ginley (@clodaghmcginley) January 11, 2016
And testaments from writers, fashion icons and…even wrestler Hulk Hogan…proved just how widely Bowie's work has resonated.
David Bowie on Extras was as good as comedy gets. @rickygervais

— Judd Apatow (@JuddApatow) January 11, 2016
The world lost an amazing artist but my thoughts are with Iman who lost a husband and best friend. #davidbowie pic.twitter.com/Ippfy6KJMJ

— Coco Rocha (@cocorocha) January 11, 2016
I wish he could have stayed on earth longer. RIP #DavidBowie pic.twitter.com/jnYLaaootw

— J.K. Rowling (@jk_rowling) January 11, 2016
RIP David Bowie ,I met him in NY in the early 80's and talked over a couple drinks at the China Club,he was really a kind soul,only love HH

— Hulk Hogan (@HulkHogan) January 11, 2016
Shocked by Bowie's death? Tell us if you've got a favorite album, song or performance that you can remember.
David Bowie's albums, ranked: