DNCE Discusses Debut Album, 'Fun' Writing Process Ahead of Grammys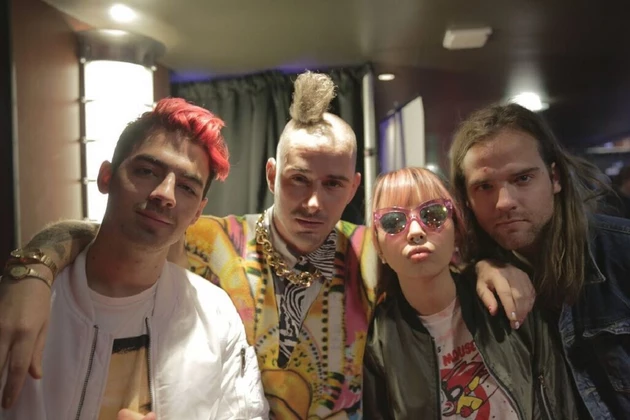 "Cake by the Ocean" pop-rockers DNCE are in Los Angeles this weekend for the upcoming Grammy Awards, where—after a performance on The Ellen Show—they stopped by the Westwood One Backstage at the Grammys event at the Staples Center on Friday February 12 to chat all things DNCE.
While the band admitted that the title of their debut LP is not yet decided ("The title is not decided yet. We're stuck between a few ideas. It was either Dog vs. Dog… Or Shark vs. Dog vs. Dog again, or Bootycake. We don't know yet," they joked, maybe), the foursome did reveal roughly when the album should be out and what people can look forward to.
"People can expect about an hour long party in different shades and colors and emotions, but that's what we do—we have fun all day and we party and talk about love and sexiness and, you know, shenanigans," the band shared, adding, "I think our dream with this EP [first] is that it becomes everyone's favorite EP, and the same with the album. We're working on a few more songs to finish it up. We have like two more. We have two more songs and it will be wrapped up. It'll be coming out in August."
Subscribe to PopCrush on
Led by Joe Jonas, the band also discussed their writing process, sharing that it's basically a party when they get together: "Our process is pretty fun. Ping pong, drinks, write music. We really wanted this EP to lyrically be wacky but musically be funky and inspired from artists like Hall and Oates to Earth Wind and Fire to Sly and the Family Stone to Jimi Hendrix. And I think we were able to pull it off!"
The group, which only formed last year and released their debut single "Cake by the Ocean" in September and their EP Swaay in October, also talked a little about their quick rise, gushing, "We've just been riding this crazy roller coaster and we don't wanna get off. It's been nonstop. I mean, not even nine months ago we came up with the idea to do this band and now we're here and it feels like a dream."
Check Out Photos Of Stars Eating