Emily Blunt + Lin-Manuel Miranda to Star in 'Mary Poppins' Sequel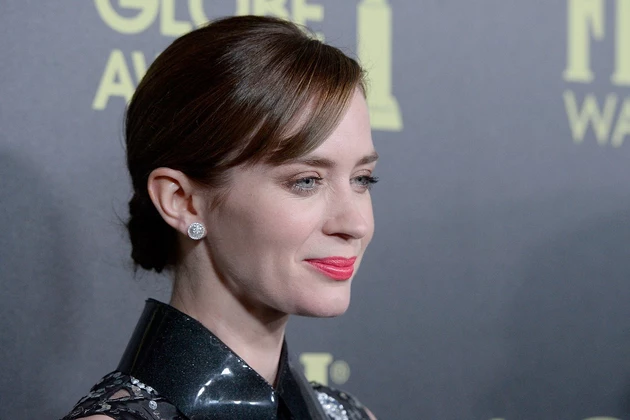 UPDATE (4/26): On Monday April 25, Disney confirmed that Emily Blunt will indeed portray the iconic Mary Poppins in an upcoming sequel for the studio's beloved musical-movie adaptation.
According to Newsweek, the follow-up film will be directed by Rob Marshall — who directed Blunt in Disney's Into the Woods — and Lin-Manuel Miranda, who created and currently stars in the hit musical Hamilton on Broadway, is set to co-star alongside the actress.
A release date for the sequel has been set for December 25, 2018, according to Variety.
ORIGINAL POST (2/20): According to Variety, British actress Emily Blunt is currently in talks with Disney to star in the company's long-awaited sequel to Mary Poppins.
Reportedly, the studio met with Blunt to gauge her interest in playing the titular role, previously portrayed by Julie Andrews in the iconic 1964 musical hit based on P.L. Travers' classic book series.The potential casting actually makes perfect sense for Disney—the actress previously starred in the company's fairy-tale musical Into the Woods, and has worked with the studio on films like The Muppets and doing character voice-over work for Studio Ghibli's The Wind Rises, distributed in the U.S. by Disney.
The original Mary Poppins film grossed $100 million at the box office and won five Oscars, so it's no wonder that Disney, in the midst of a remake boom (Cinderella, Alice Through the Looking Glass, The Jungle Book), would turn its eye towards the beloved magical nanny. Rob Marshall is set to direct the London Depression-era film, while John DeLuca and Marc Platt (Wicked) are on board to produce. Previously, Marshall, DeLuca, Platt, and Blunt all worked together on Disney's 2014 adaptation of the iconic musical Into the Woods.
However, the deal is not yet confirmed between Blunt and the studio, with Variety reporting that Blunt's second pregnancy may "play into her decision."
Blunt stars in the upcoming thriller The Girl on the Train as well as fantasy epic The Huntsman: Winter's War where she plays an ice queen who is, thankfully, not related whatsoever to a certain Disney character.
50 Celebrities Who Voiced Cartoons