New Fifth Harmony Single on the Way, Likely to Be Performed on 'Kelly and Michael'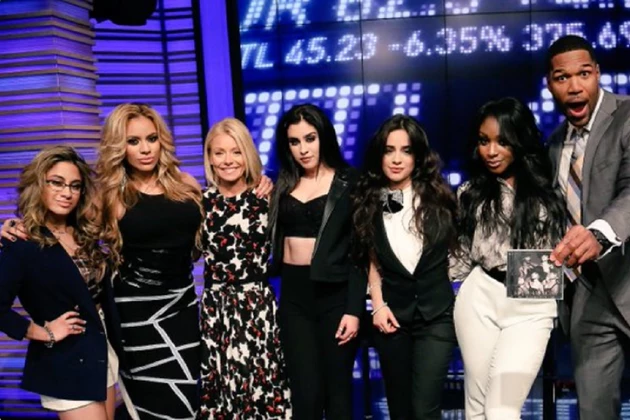 UPDATE (2/23): The radio DJs are spilling the beans! The title of 5H's new single is apparently "Work From Home," according to a new-deleted tweet by Java Joel. The track will reportedly premiere on Elvis Duran this Friday, and according to DJ Kobe, the track is "hot," and sounds like Justin Bieber's "Sorry."
. @DJSCOTTYCOLLINS Just played me the new @FifthHarmony and it's FIRE!!!

— DJ Kobe (@KobeOnTheRadio) February 22, 2016
This new @FifthHarmony is amazing guys. I can't wait to play it. #Harmonizers

— DJ Kobe (@KobeOnTheRadio) February 22, 2016
@Jaureggstatic Sounds AMAZING! Almost a little like #Sorry

— DJ Kobe (@KobeOnTheRadio) February 22, 2016
@stylesx5h @karlosvzla Different than worth it. Like @justinbieber #Sorry is different from his last album

— DJ Kobe (@KobeOnTheRadio) February 22, 2016
Good news, Harmonizers: It looks like a new single (and debut performance of said single) from the ladies of Fifth Harmony could be on the way before the month's end!
Earlier this week, the LIVE with Kelly and Michael Twitter announced that the chart-topping X Factor-formed girl group would be doing a special performance for the show's annual "After Oscar" episode, to be filmed at the Dolby Theater in Hollywood following the Oscars and aired at 9 a.m. EST on February 29.
We're so excited to announce that #FifthHarmony will be at our #KellyAndMichael #AfterOscar Show! @FifthHarmony pic.twitter.com/pwd2fmdsXS

— LIVEKellyandMichael (@KellyandMichael) February 16, 2016
On February 12, L.A. Reid responded to a fan asking about when the girls' next single would be released, inadvertently announcing February 26 as its release date. Considering how close the single release is to the scheduled performance, it's likely that the group could perform the new track. (Well, here's hoping, anyway!)
Feb 26 https://t.co/ntA3H0pBUq

— LA Reid (@LA_Reid) February 12, 2016
The following footage was reportedly taken on the set of the music video, which filmed earlier this month. Based on a series of now-deleted Instagram photos posted by dancer Caitlin Wheeler, the music video for the track (whose title has yet to be released) has a post-apocalyptic theme that is said to be heavily inspired by Mad Max: Fury Road.
Subscribe to PopCrush on
The video is also rumored to have been filmed by rising Hollywood music video director Hannah Lux Davis ("Bang Bang," "Focus," "Cool For The Summer") who previously worked with the girls on their "Miss Movin' On" video. Below is what seems to be the casting call for the music video, posted to Davis' Instagram:
In 2015, Fifth Harmony were named Group of the Year at the annual Billboard Women in Music Awards, and their smash single "Worth It" was certified platinum two times by the RIAA. Needless to say, expectations are high for the girls' next musical offering.
The evolution of Fifth Harmony, from X Factor USA to today: