Gwen Stefani Faces Backlash Over Twitter Comment Calling Younger Self 'Chunky'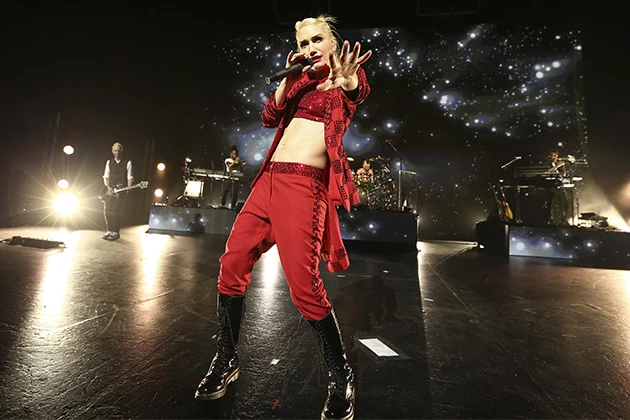 A seemingly innocent old photo from Gwen Stefani has started a backlash as well as an Internet debate over body image.
On Sunday (Feb. 2), the No Doubt singer shared a picture taken of her more than 30 years ago, while she was getting an autograph from Police frontman Sting. It wasn't the image that caused controversy, though, it was the caption that Gwen wrote alongside it, referring to herself as "chunky me."
chunky me 1983. getting @officialsting autograph backstage. cut to… pic.twitter.com/Uj1dmN9GPL

— Gwen Stefani (@gwenstefani) February 2, 2014
While many followers were just amazed at the vintage photo showing a superstar-to-be meeting an already legendary artist, others pointed out that her choice of words could be considered hurtful to her female fans — especially younger ones. Yahoo Shine published an article called "Gwen Stefani's Comments About Her 'Chunky' Body Make Us Sad," and several others voiced their displeasure via Twitter:
@gwenstefani please don't call yourself chunky. Too many girls and women look up to you for you to talk like that.

— Katharine (@kategoesboom) February 2, 2014
@gwenstefani @OfficialSting Come on Gwen chunky? Really?!!! Not cool-to many girls look up to you for you to call that a "chunky" pic!

— Bird Tomal (@BirdzDaWord) February 4, 2014
Others rushed to the star's defense as the backlash heated up, saying that the comment shouldn't have incited any controversy at all:
Are people seriously mad that Gwen called herself chunky in that throwback picture? She WAS chunky. Who cares?! She wasn't being negative

— Jaimie Leigh (@jaimieATD) February 4, 2014
oh my god if you are upset about Gwen Stefani calling herself chunky when she was 14 please delete your twitter and play in traffic.

— Patrick Crane (@patrickcrane11) February 4, 2014
There's been no word yet on the controversy from Gwen herself. She is expecting her third child — a boy — and was last seen in public flaunting her baby bump.