Harry Styles' Tattoo Artist Says He Was Never In Love With Taylor Swift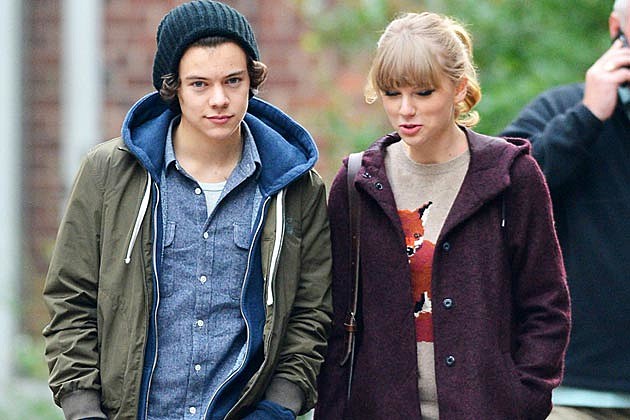 Sparkle-free. That's how Harry Styles L.A.-based tattoo artist Freddy Negrete described the One Direction member's relationship with Taylor Swift. You're probably like, "How the heck would he know?" right? Well, turns out Negrete can offer some keen insight into Haylor, since he was around them when they were together for those three whole minutes. Oops, we meant three months. Also, never underestimate the people reading skills of a man who sticks ink-filled needles into people's skin for hours.
Negrete inked Styles' arm with the ship that was eerily similar to that of the dude in Swift's 'I Knew You Were Trouble' video and he insists that the relationship had no heat or sizzle, at least in his estimation, and that Harry's ship was not any sort of tribute to Swift.
Negrete told The Daily Star, "Harry and Taylor didn't seem in love at all. There wasn't a sparkle in Harry's eye. They were kind and respectful to each other but didn't have stars in their eyes."
That's certainly an opinionated and subjective point of view. That's how Negrete perceived the relationship, and he could have been picking up on all sorts of clues. However, Haylor could have been behaving in non-PDA fashion when in public and that's what he was zoning in on. You never know … but it does make those PR set up rumors ring louder, right?
Still, Negrete played tattoo chair psychologist even more, saying, "They seemed more like friends. Harry wasn't in love and it wasn't serious for him. They weren't romantic at all. He was just casual, they weren't staring into each other's eyes. Taylor came towards the end of his ship tattoo and sat with him but there was nothing magical going on."
He also confirmed that the ship was not an homage to Swift's video and she did not influence what he chose. "Harry's ship had nothing to do with the guy in Taylor's music video, he didn't even know about that," the artist said. "He only chose it after he arrived. We showed him a book of paintings of English ships, done by a famous painter. He wanted a realistic looking English ship, because he misses home and needs to remind himself that he's homeward bound. What he said was, 'We're always on the road but my heart is at home and I want a ship.'"
Aw, Harry really loves his native, merry ol' England.
Negrete didn't just espouse about Haylor. That's so December 2012. He shared what Styles is like while getting inked. "Harry's got tattoo fever now," the L.A.-based artist said. "If you get a tattoo and you like it, you want more. It happens to a lot of people. He wanted Hebrew lettering and came in with his sister's name written out. When I told him I was Jewish, he was thrilled and said it was very fitting and the right guy was doing it."
He also said that Styles "sits really well" during tattoos. Anyone who has a tattoo knows that they are agonizingly painful. But Hazza is a trooper. Negrete said, "The pain doesn't bother him. He gets tattoos in the most painful spots. He's got a lot on the inside of his arm, while the ribs are really painful and he's got a lot there."
Negrete is proud to be Styles' U.S. inker, saying "I did his very first tattoo, the star on the inside of his arm, and whenever they're in town, he comes here."
He also said, "You can never have too many tattoos and I think Harry feels the same way. I like the ship the best. I think he was pretty happy with that one."
Perhaps Negerete, who is an excellent artist, isn't reading the Directioner chatter and media musings about Styles' random, unconnected and not good tats…
Watch the One Direction 'Kiss You' Video
Subscribe to PopCrush on