#InnocentPhrasesThatScareMe Are Hilariously Terrifying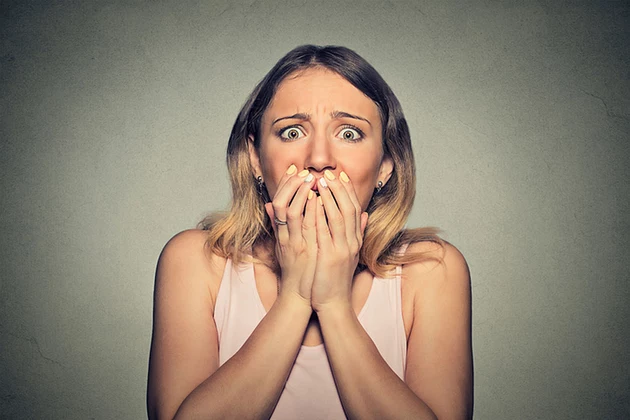 Sometimes, the most harmless sounding things are the most frightening.
Twitter was abuzz Tuesday (June 27) with the trending hashtag #InnocentPhrasesThatScareMe, in which users shared some otherwise innocuous expressions (which we've likely all said or heard at some point) that can actually be reason to bite your nails down to the cuticle or break out in hives.
Sure, there's the obvious "Can we talk?," but in our modern world, hearing someone utter the dreaded "There's no Wifi" may be even more alarming.
So, take a look for yourself and judge which one is the scariest. And just remember this the next time a friend casually asks, "Hey, can you do me a favor?"
Are you busy? #InnocentPhrasesThatScareMe

— Meg_Silver (@MegLewMet) June 27, 2017
There's no Wifi #InnocentPhrasesThatScareMe pic.twitter.com/NDy6tEQjjG

— Kay ✨ (@Ana_Elle971) June 27, 2017
What are your plans 5 years from now? #InnocentPhrasesThatScareMe pic.twitter.com/hxrTcjif6C

— Ashley Nicole⚡️ (@AshLIGHTnin) June 27, 2017
Promise you won't get mad? #InnocentPhrasesThatScareMe

— SlootyOne (@FormerlyMe202) June 27, 2017
#InnocentPhrasesThatScareMe: "Make America Great Again", because I know history. pic.twitter.com/asMYmrLA46

— imfabulous (@imfabulous13) June 27, 2017
Your mother's here #InnocentPhrasesThatScareMe

— M (@Skyblumelon) June 27, 2017
"Believe me." #InnocentPhrasesThatScareMe pic.twitter.com/MM6YLPDVRm

— Donald J. Trump (@BiglyPrez) June 27, 2017
We'll talk about it later #InnocentPhrasesThatScareMe

— Gin (@gingleberries) June 27, 2017
No offense, but… #InnocentPhrasesThatScareMe

— Ryan ️‍ (@ryandouglassw) June 27, 2017
You'll find out soon enough #InnocentPhrasesThatScareMe

— Matt (@M_Gamesandstuff) June 27, 2017
"It doesn't look like anything to me."#innocentphrasesthatscareme

— Rora resist/persist! (@rora_borealis) June 27, 2017
This is Dr. Miller's office. We have your results. Please call back as soon as possible. #InnocentPhrasesThatScareMe

— Keats (@keatsy2112) June 27, 2017
Everyone find a partner #InnocentPhrasesThatScareMe

— Meg_Silver (@MegLewMet) June 27, 2017
#InnocentPhrasesThatScareMe Well, it could be worse

— Benji Dubois (@BenjiButcher) June 27, 2017
We need to talk…#InnocentPhrasesThatScareMe

— A Man Can Haz Coffee (@ben4623) June 27, 2017
The Best Celebrity Tweets Ever: