Jennifer Hudson Dishes About 'I Remember Me' Album and Weight Watchers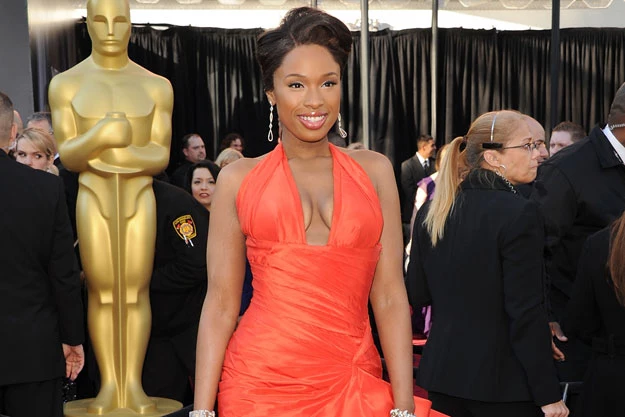 Jennifer Hudson stopped by The Tom Joyner Morning Show to chat about her drastic weight loss and forthcoming new album, 'I Remember Me.'
We can all see that the Oscar-winning actress looks fabulous following a full-body makeover, but J-Hud admits that she hasn't quite gotten used to the jaw-dropping looks that her weight loss overhaul invokes. "It's the weirdest thing, everywhere I go people are like 'Oh, let's look at her!' and it's like … Okay." she gushes. "It's going really well, better than I expected. I remember when I first started with the weight loss, I had no idea so many people were watching. That's what makes it so shocking now."
Hudson is now the face of Weight Watchers, so she's inspiring people everywhere to jump on the train —  including her own family. "They've almost lost, I think maybe a 1,000 pounds last time? They're over that, it's like 1500-2000 now," she brags. As for her own goal, Hudson says she set out on 30-minute walks and a gradual diet change just four days after giving birth to her son in 2009. Since then, she has lost a total of 80 pounds. She adds enthusiastically, "I just went for it!"
The former 'American Idol' star carried a similar tune in making her new album, which boats collaborations with Alicia Keys, Swizz Beatz, Ne-Yo, and R. Kelly — who wrote and produced the album's lead single, 'Where You At.' "He didn't like actually come in and physically produce the song, but he wrote an amazing song," Hudson admits, joking a bit about the grammar in the title. "I mean come on people, 'Where Are You At?' Who's gonna listen to that?," she says, laughing.
Hudson previewed all of the songs from 'I Remember Me' for radio listeners, including one called 'I Got This,' about the south side where she "comes from," and 'Still Here,' written for her late grandmother — as well as the title track, 'I Remember Me,' which stands for her past. "I actually came up with the concept when I woke up one morning," Hudson says of the song. "I just started writing, 'cause a lot of people always say 'What is she thinking, how does she feel?' You know, from my perspective. So this was the best way I could put it into my perspective."
In 2008, Hudson's mother, brother, and 7-year-old nephew were tragically murdered by her sister's estranged husband. After a three-month stint in hiding, Hudson returned to win a Grammy, get engaged to a Harvard graduate, and deliver a healthy baby boy. "In 29 years I feel like I've led at least four different lives. Nothing is the same today as it was two years ago, so I just want to say I remember me." she says, adding, "And that's what I love about the album, it's kind of a collection of me. I refused to record anything I did not love."
As for the future, Hudson says that all she can ask for is staying power — as the rest is out of her hands. "I feel selfish, I've been so blessed. All I can ask for is to be able to keep doing what I do and be happy, be healthy while doing it. I'd just love to be around twenty, thirty, fourty years from now. I want longevity."
Jennifer Hudson's 'I Remember Me' drops March 22, and her new movie 'Winnie,' about the life of Nelson Mandela, is slated for release this year.