Jennifer Lawrence Labels Her Style 'Slutty Power Lesbian'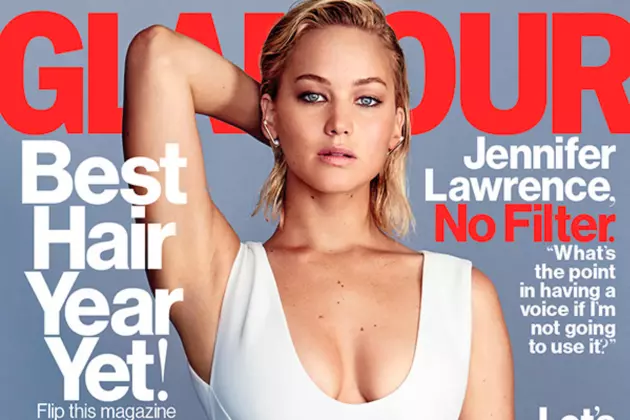 Hunger Games star Jennifer Lawrence graces the cover of Glamour magazine's February issue, sporting a no-frills hairstyle and a gorgeous white dress. This cover marks the Kentucky-born actress' second for Glamour—her first was four years ago, just before the first installment of the Hunger Games series was released.
As Lawrence herself states in her cover interview with Cindi Leive, almost everything in her life has changed dramatically since then, but for the better. "It took a few years to adjust," she admits, because of "how angry and distorted I felt." Feelings of entitlement lingered for a life she could no longer have, one in which she wasn't constantly photographed or stalked outside her house. But "then you just get used to it—and it just is," she concludes.
After discussing her Kentucky roots and how she is "still rooted in [her] redneck [ways]," the conversation turns to designers and personal style—something that Lawrence openly admits is not of huge concern in her home state. When asked to describe her current style, Lawrence offers the phrase "slutty power lesbian." "That is literally what I say to a stylist," she continues. "I don't know if that's offensive," she admits, but we're sure the Internet will decide that for her once the interview circulates.
Lawrence then cites her work with Dior as further explanation of what a "slutty power lesbian" really looks like. "Well, first of all, Dior is its own house that's very feminine and beautiful; this past press tour every dress was just phenomenal. So you don't see me as a slutty power lesbian on the red carpet a lot, because I'm embodying the Dior woman, which is an honor.… But [also] I've got tits and an ass. And there are things that are made for skinny people—like a lot of embroidery, or it covers a lot—and those make me look fat. I have to show the lumps. If you have boobs, you have to show, like, 'These are boobs. This isn't cellulite.' Not that there's anything wrong with that."
Read the full interview on Glamour's website to find out more about Lawrence's recent role in the film Joy, her passion for acting, and breaking expectations for how well a "female-driven movie could do at a box office."
See Which Celebs Predicted Their Own Futures