Jessica Sanchez Sings to Her Father at 'American Idol' Hometown Visit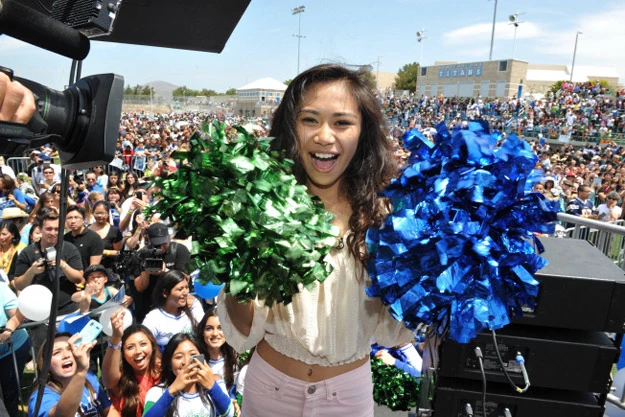 'American Idol' finalist Jessica Sanchez returned to Chula Vista, Calif. for the show's hometown heroes week, where she made several performances, including a special one for her beloved father.
The 16-year-old singer's dad is a member of the U.S. Navy, and while appearing at the USS Midway Museum, she invited him on stage to serenade him with a rendition of Luther Vandross' 'Dance With My Father.' He will be deployed to Singapore soon.
According to PEOPLE, Sanchez also visited Eastlake High School on Saturday, May 12, which the mayor declared "Jessica Sanchez Day." She waved to thousands of cheering fans as she arrived by car with her two little brothers in tow.
The 'Idol' star performed four songs for the crowd at the school's stadium, including Whitney Houston's 'I Will Always Love You.' "I feel amazing," she said. "I'm so happy to represent Chula Vista. It was the people … I missed the people so much. I love you guys. Thank you for all the support."
Finalists Joshua Ledet and Phillip Phillips also headed back to their respective hometowns to equally warm receptions. Fans will get to see what happened during their exciting trips — including a pep rally for Ledet and a key to the city given to Phillips — on Wednesday's episode of 'American Idol.'
Watch Jessica Sanchez Perform 'Bohemian Rhapsody'