Justin Bieber Wins Best Male Video Honor at the 2011 MTV Video Music Awards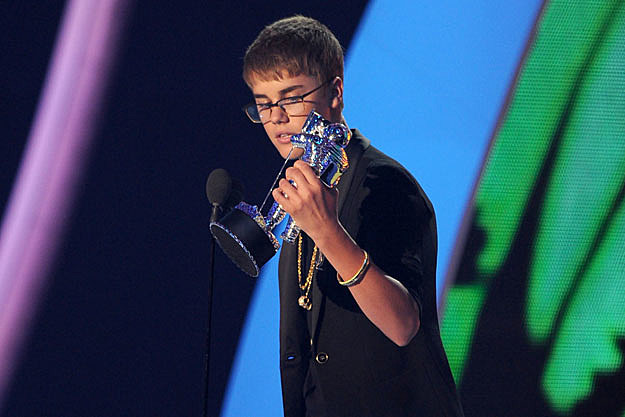 Justin Bieber beat out some big guns for the Best Male Video honor at the 2011 MTV Video Music Awards tonight, proving that his phenomenal popularity is still going strong.
The Biebs won the Moonman trophy for his 'U Smile' clip in the category, which featured tough competition in Cee Lo Green, Kanye West, Bruno Mars and Eminem.
The teenage pop star, sporting a black blazer, black t-shirt and bright red pants, kissed his girlfriend, Selena Gomez, upon hearing his name read by presenter Kim Kardashian.
"I just wanna say thank you so much, not only to God but to Jesus," said Bieber in his acceptance speech. "Because I wouldn't be here without him. He's really blessed me and put me in this position … Also, I want to say thank you to all the other nominees. I'm a true fan of all of them."
Watch Justin Bieber Accept Best Male Video Award