Kim Kardashian vs. Ciara: Whose Engagement Ring Do You Like More? – Readers Poll
Some of our favorite celebrities are lucky in love! Kim Kardashian and Ciara each celebrated their birthdays this month — and got extra special gifts.
The stars both received proposals from their respective rapper boyfriends, Kanye West and Future, and are now engaged. The similarities don't end there — both ladies are sporting major 15 carat sparklers. Whose ring do you like more?
Vote below, and be sure to read about the details and see pics!
Kim's ring cost Kanye a cool $6 million. No big deal. A rep for Lorraine Schwartz, the ring's designer, told Us Weekly that the rapper was very involved in the selection process. "Kanye looked at many beautiful diamonds, he wanted a perfect stone," the source said. "He wanted it to look like the diamond was floating on Kim's finger! Lorraine was happy that Kanye asked her to create the ring with him. Kim and Lorraine are dear friends. Kanye was very involved  with the design and the whole process."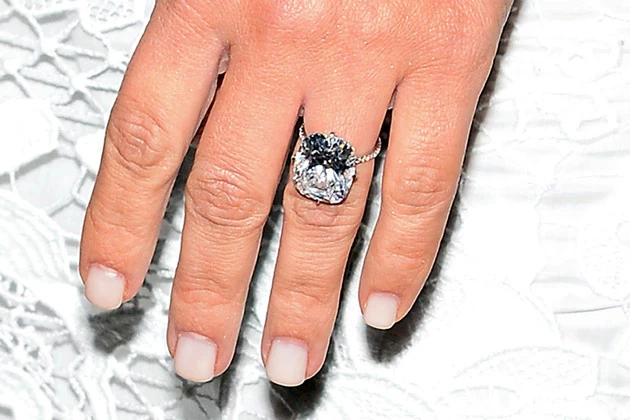 Ciara's ring, on the other hand, is an emerald-cut diamond from Avianne & Co. It's flanked by two smaller (but still sizeable!) diamonds. A rep from the jewelery company told People that there was a lot of planning behind the ring's design. "We went through several molds and concept models before landing on the proper design, which allowed for maximum shine and stability in the diamonds," the rep said. "This vision of blending ring styles together allowed for a very unique ring."