Kyary Pamyu Pamyu Celebrates Her Colorful Tokyo Stomping Grounds on 'Harajuku Iyahoi'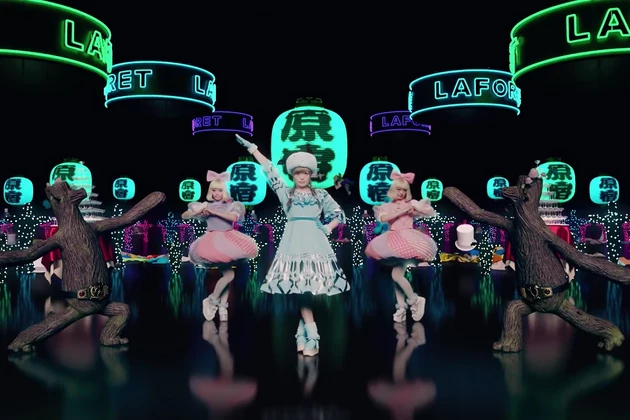 It's been nearly nine months since Tokyo's resident kawaii pop princess Kyary Pamyu Pamyu graced fans with new music—her last release was the single "Sai & Co" off her greatest hits compilation, KPP BEST, back in April. Today, the fashion model-turned-J-pop superstar returns with a saccharine vengeance on "Harajuku Iyahoi," a bouncy electro pop ode to the iconic, street style-laden area of Shibuya from which her colorful career was launched (and of which she serves as the official "Kawaii Ambassador").
In signature Kyary fashion, the video for "Harajuku Iyahoi" is a pretty mess of charming CGI creatures, weirdly cute visuals and peppy, mechanical choreography.
While past videos have welcomed everything from googly-eyed onions ("Candy Candy") to dancing, crop top-wearing lions ("Tsukematsukeru") to pastel zombies ("Crazy Party Night"), this one finds the pop star doing a (loosely) Russian folk dance-inspired routine amid a neon cityscape while flanked by an eccentric cast of characters: Dancing tree stumps! Disembodied hands covered in polka dots! Giant piles of sentient t-shirts! Doppelganger Kyarys galore!
Featuring visual nods to the fashion-forward youth culture center that is Harajuku, from the twirling mounds of Takeshita-dori streetwear to the iconic LaForet shopping mall signs in the sky, the video for "Harajuku Iyahoi"—which means something along the lines of, "Harajuku, Hooray!"—is a sugar-saturated love letter to Kyary's creative headquarters. Watch below:
Subscribe to PopCrush on
Produced by CAPSULE hit maker and frequent Kyary collaborator Yasutaka Nakata, "Harajuku Iyahoi" will be released on January 18 alongside the Japanese artist's upcoming collaboration with British pop star Charli XCX, "Crazy Crazy."
Meet the Reigning Queens of J-Pop: