Lady Gaga Shares Thoughts on Creative Theft + More in Debut as V Magazine Columnist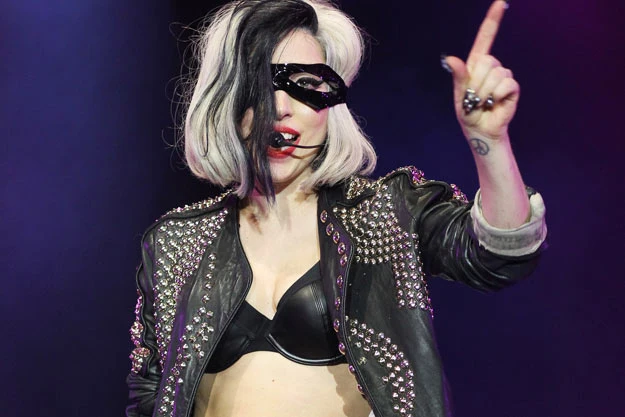 Lady Gaga has to be part-woman, part-machine. On top promoting her album 'Born This Way,' shooting videos, touring non-stop, and taking on many other philanthropic and cultural endeavors, the pop singer somehow found the time to act as a guest columnist for V magazine.
In the article, Gaga gushes about her biggest inspirations and fashion. She also shares her thoughts on creative theft, explains her famous Grammy egg, and reminisces about the apartment on the Lower East Side of Manhattan that she used to call home.
On her biggest inspirations:
"I would dream of being a rock star who dressed like Mark Bolan [sic], walked like Jerry Hall, and had the panache of Ginger from 'Casino' and the mystery of Isabella Blow." (NOTE: Gaga misspelled the name of English singer-songwriter Marc Bolan, much to dismay of many writing critics.)
On her fashion expertise:
"I myself can look at almost any hemline, silhouette, bead work, or heel architecture and tell you very precisely who designed it first, what French painter they stole it from, how many designers reinvented it after them, and what cultural and musical movement parented the birth, death, and resurrection of that particular trend."
On creative piracy and borrowing ideas:
"When Yves Saint Laurent designed the "Mondrian" day dress for fashion week Fall/Winter 1965, did he plagiarize or revolutionize? Some people would say he was unoriginal, that he traced an iconic contemporary artwork by Piet Mondrian, and stole it for his own merits. Others may argue that by referencing something so "before its time," he influenced an entire generation in fashion that transformed the female body with a more linear sensibility, graphics, and painterly shape. We now call it "mod." Picasso said, "Good artists copy; great artists steal." … Art gives birth to new art."
On her famous Grammy egg:
"There is no chicken or egg. It's molecular. Cells give birth to cells. To put it more bluntly, the Hussein Chalayan vessel I wore at the Grammys wasn't inspired by a chicken. It was stolen from an egg."
On her Lower East Side apartment where she once resided:
"My studio apartment on the LES, quite similar to many of my hotel suites now (knock on wood), was covered in inspiration. Everything from vintage books and magazines I found at the Strand on 12th Street to my dad's old Bowie posters to metal records from my best friend Lady Starlight to Aunt Merle's hand-me-down emerald-green designer pumps were sprawled all over the floor about two feet from my bathroom and four inches from my George Foreman Grill. (Starlight was always jealous that mine had a bun warmer and hers didn't.)"
Watch the Lady Gaga 'Judas' Video