Lupe Fiasco Talks Politics on 'The Colbert Report,' Performs With Skylar Grey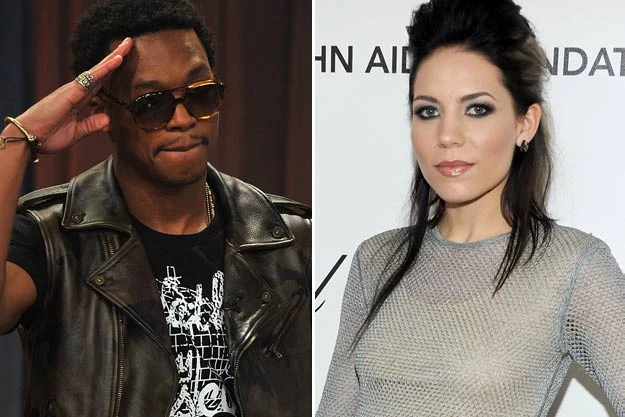 Last night, Lupe Fiasco and Skylar Grey took the stage on Comedy Central's 'The Colbert Report' to perform the track 'Words I Never Said.' The song is off of Fiasco's latest album, 'Lasers,' and speaks out against the current state of affairs in the political world. Before his performance with Grey, Fiasco sat down for a one-on-one interview with the show's satirical host, Stephen Colbert.
Fiasco has always been outspoken about his views on politics, and while chatting with Colbert, the rapper talked about his belief that everyone should criticize and question the government as much as possible. "Even if you agree with it, you should always criticize power … Well we pay for it. We actually sign those [politicans'] checks. I'm a taxpayer, so it's like that gives me the right to critique everybody [in politics]," Fiasco says to Colbert.
Colbert later questioned 'The Show Goes On' rapper about his father, who was a member of the Black Panther Party, and how his father's ideology affected him as a person. "I bring it to all parts of my life. I practice what I preach and I preach what I practice. So my music is no less an extension of my life and the things that I was taught and the way I was raised in Chicago," Fiasco responds.
Colbert and the rapper laughed along with each other as the wacky host cracked jokes throughout the interview, asking things like "Are you just complaining because you don't know how to rhyme "shot Bin Laden in the eye?'" since Fiasco doesn't support the war on terror. Colbert also asks, "Well if you're a taxpayer, wouldn't the ultimate criticism of power be [to] not pay your taxes?" Fiasco didn't miss a beat though, coming back with comment, "I'd be like Wesley Snipes, then."
During the performance, Skylar Grey stepped out with Fiasco to sing the riveting chorus of 'Words I Never Said.' Grey sings, "It's so loud inside my head / With words that I should have said / As I drown in my regrets / I can't take back the words I never said" in her haunting voice. During the performance, the song's principal players were joined by a full backing band, giving the tense song a rock 'n' roll edge as Fiasco raps:
"I really think the war on terror is a bunch of bulls— / Just a poor excuse for you to use up all your bullets / How much money does it take to really make a full clip / 9/11 building seven did they really pull it / Uhh, and a bunch of other cover ups / Your childs future was the first to go with budget cuts / If you think that hurts then, wait here comes the uppercut"
Watch Lupe Fiasco Perform 'Words I Never Said' With Sklar Grey + Be Interviewed by Stephen Colbert