Melanie Amaro Makes 'Somber' Performance of Mariah Carey's 'Hero' Work on 'X Factor'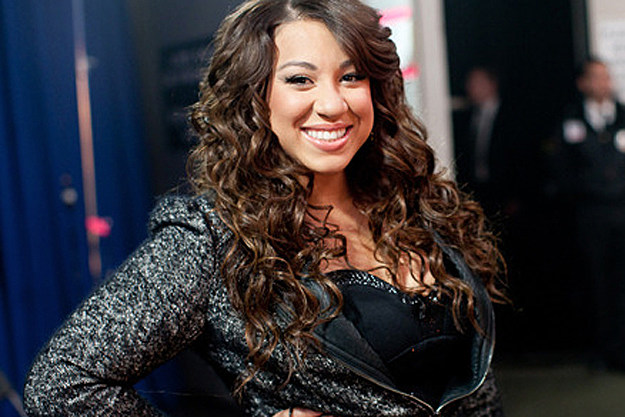 One female remains amongst the four 'X Factor' finalists. Melanie Amaro is no doubt hoping that helps her get viewer votes, and if America follows the judges' lead, that shouldn't be a problem. Although L.A. Reid and Paula Abdul offered constructive criticism, all four judges agreed that the 19-year-old was amazing once again.
Amaro sang Mariah Carey's 'Hero,' a song chosen by viewers in the Pepsi Challenge. All four of the contestants had to sing a song they didn't choose on Wednesday night. Abdul pointed out that Simon Cowell changed the chord arrangement from major to minor chords, making it a more somber performance, but she still called the song "impeccable."
"What's so special about you now is that you've grown into the women that you are," said judge Nicole Sherzinger. "You have your own power, you're own strength up there." The song didn't require her to work the stage like some other acts have done. She stood still in a long sequined black gown as fog rose around her feet.
Reid said he didn't feel Amaro's usual passion at first. "I didn't feel your usual love for the song," he said, "but you did take it there." Cowell was predictably enthusiastic about his finalist. "That is what you call putting your stamp on an original," he said, taking a dig at the first two performers. "That was bloody fantastic."
Watch Melanie Amaro Sing 'Hero' on 'X Factor'
Subscribe to PopCrush on