Miley Cyrus Adopts Puppy, Names Her Penny Lane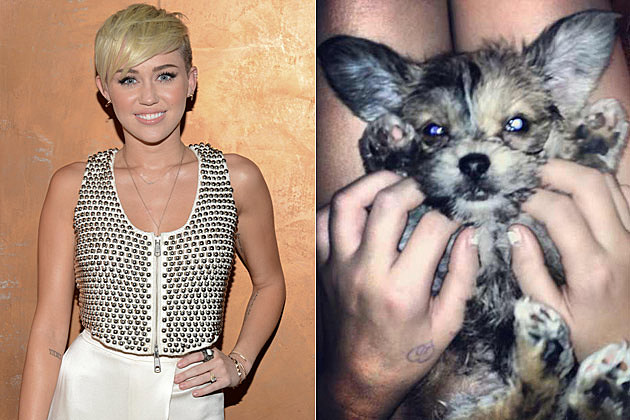 Miley Cyrus is a dog lady and she's proud of it. The 20-year-old has adopted yet another pup to add to her brood, naming her Penny Lane.
With four dogs (that we know of), Cyrus rescued the new furry friend from Saving SPOT! Dog Rescue in Los Angeles. "Just rescued baby 'Rosie' from @spotrescuedogs ❤ another angel saved" the star tweeted on Monday (Nov. 26), adding, "Name change! @spotrescuedog Rosie is now 'Penny Lane.'"
'Penny Lane' is the popular 1967 song by The Beatles (not that we really needed to tell you that). It was also the name of Kate Hudson's character in the movie 'Almost Famous.' Fans have already taken to the latest addition to the Cyrus crew, setting up a Twitter and Instagram account for her, including pics of Miley's sister Noah holding the pup.
Miley surely has plenty of room for her dogs, which she'll need since it doesn't look like she'll be hitting her limit any time soon. So far, the singer's pets include dogs Floyd, Lila and Happy, not to mention Ziggy, the adorable pup she got for her fiance Liam Hemsworth. That's some clan!
Miley recently celebrated her 20th birthday, but instead of presents, she asked fans to donate to her two favorite organizations, including Saving SPOT! Dog Rescue. "Thank you to all my fans who donated to @starkeyhearing @spotrescuedogs for my birthday : )," she tweeted. "Y'all topped it again best bday present by far!" Check Out Miley Cyrus in the Borgore 'Decisions' Video
Subscribe to PopCrush on