Most Memorable 2016 Emmys Moments: Sandwiches, Hacking Jokes + Angela Bassett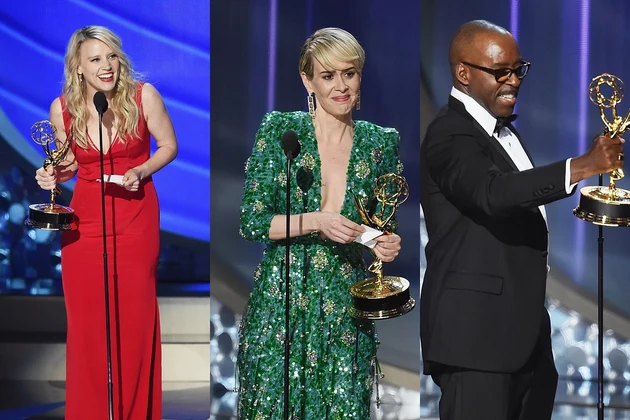 From peanut butter and jelly sandwiches to a Hillary Clinton shout-out, the 2016 Emmy Awards were rife with standout moments from stars like Kate McKinnon, Leslie Jones and the cast of Stranger Things.
We've rounded up the most memorable moments below—take a look!
The Kids of Stranger Things Deliver PB&J Sandwiches
Sitting in a stuffy designer outfit and listening to questionable jokes for three hours must be difficult, even for rich and famous celebrities. So a little TLC by way of peanut butter and jelly sandwiches hand-packed by host Jimmy Kimmel's real-life mom must have been a nice (and yummy!) break for some of the Emmys' more peckish attendees. What's even better is that they were distributed in brown paper bags by the young stars of Stranger Things (Millie Bobby Brown, Gaten Matarazzo and Caleb McLaughlin), who delivered the snacks by bicycle—the vehicle of choice for any respectable '80s kid, obviously. One question though: Where's the chocolate pudding?
Jimmy Kimmel enlists the kids of @Stranger_Things to pass out Pb&j sandwiches #Emmys pic.twitter.com/JlCUzhVym4

— Mashable (@mashable) September 19, 2016
Leslie Jones Jokes About August Hacking: 'Can a Sister Feel Beautiful?'
There was nothing funny about the racist, sexist hacking Saturday Night Live star Leslie Jones experienced in August, but taking to the stage alongside the Emmys' Ernst & Young accountants (i.e. the representatives who protect the award show's voting results) the Ghostbusters actress brought some much appreciated levity and realness to the incident, joking, "Y'all protecting something nobody is trying to steal. Don't nobody want to know about boring Emmy secrets. But since you good at keeping things safe, I got a job for you: My Twitter account. Put that in the vault, please!"
Jones continued, "Y'all using your skills to protect best voice-over on a French sitcom. Meanwhile I'm butt naked on CNN! I just wanted to feel beautiful y'all. Can a sister feel beautiful?" Yes Leslie, you can, girl!
Leslie Jones enlists some help protecting her Twitter account #Emmys pic.twitter.com/CsehDmJtOf

— Mashable (@mashable) September 19, 2016
Sarah Paulson Addresses Sexism During O.J. Trial in Acceptance Speech
While it was unsurprising that the enormously talented Sarah Paulson won the Emmy for Outstanding Lead Actress in a Limited Series for Ryan Murphy's The People v. O.J. Simpson: American Crime Story, what was surprising was who she brought as her date—and what she said during her thank-you speech.
Paulson, who portrayed real-life prosecutor Marcia Clark in American Crime Story, brought Clark along with her to the Emmys, where she poignantly addressed the sexism and unfair backlash Clark received during the infamous trial, saying, "The responsibility of playing a real person is an enormous one. You want to get it right, not for you but for them."
Paulson continued, in front of a visibly-touched Clark, "And the more I learned about the real Marcia Clark, not the two-dimensional cardboard cutout I saw on the news but the complicated, whip-smart, giant-hearted mother of two who woke up every day, put both feet on the floor and dedicated herself to righting an unconscionable wrong, the loss of two innocents—Ron Goldman and Nicole Brown—the more I had to recognize that I, along with the rest of the world, had been superficial and careless in my judgment. I'm glad to be able to stand here today in front of everyone and tell you I'm sorry."
Sarah Paulson honors the real Marcia Clark during her #Emmys acceptance speech for "The People vs OJ Simpson" pic.twitter.com/WLhf3ZJVWI

— Mashable (@mashable) September 19, 2016
Courtney B. Vance Gushes Over Wife Angela Bassett During Acceptance Speech
We were thrilled when Courtney B. Vance won the Emmy for Outstanding Lead Actor in a Limited Series for his role as Johnnie Cochran in American Crime Story, but we we're over the moon when, during his thank-you speech, he gushed over his wife, American Horror Story star Angela Bassett. (And can you blame him?)
"To the woman that rocks my chain: Angela Evelyn Bassett, this one is for you, girl!" Vance gleefully announced before throwing out a not-so-subtle political endorsement: "Obama out, Hillary in!"
How cute was this moment between @CourtneyBVance and @ImAngelaBassett!? #Emmys pic.twitter.com/01ZR7Q9izk

— ESSENCE (@Essence) September 19, 2016
Kate McKinnon Wins, Cries and Thanks Hillary Clinton + Ellen DeGeneres
Is there anything more precious than watching a shaky, crying Kate McKinnon yank a thank-you speech out of her bra (relatable!) after finding out she just won her first Emmy for Outstanding Supporting Actress in a Comedy Series? No? We didn't think so—but her promising that she is "really crying" and "not making that up" before thanking Ellen DeGeneres and Hillary Clinton, who she famously impersonates on Saturday Night Live on the regular, comes damn close.
Perhaps even cuter? Both ladies returned the love on Twitter.
Kate McKinnon accepting her first Emmy award with such beautiful speech. ✨ pic.twitter.com/KK9DqXT9d5

— Kate McKinnon Info (@updatedmckinnon) September 19, 2016
Congratulations on your Emmy, Kate! Big fan of yours, too. pic.twitter.com/w00QO1GwyH

— Hillary Clinton (@HillaryClinton) September 19, 2016
Kate McKinnon! I'm so happy for you. You deserve it and so much more. And not just because you thanked me. #Emmys

— Ellen DeGeneres (@TheEllenShow) September 19, 2016
IM SCREAMING CRYING MY BITCH MY BITCH SHE WON YALL!!

— Leslie Jones (@Lesdoggg) September 19, 2016
See Photos From the 2016 Emmy Award Red Carpet: