Nicki Minaj Fires Back at Scorned 'American Idol' Contestant Devin Velez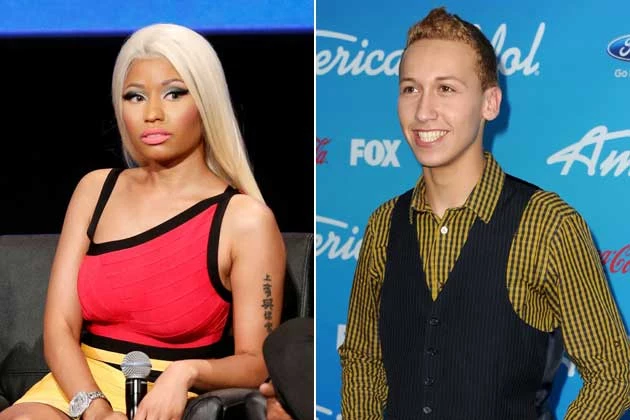 Losing is never fun, but some are able to handle it with dignity and grace — unfortunately, Devin Velez isn't one of those people. The 18-year-old 'American Idol' contestant wasn't happy about being eliminated after last week's Motown episode, and his attitude sparked an intense reaction from judge Nicki Minaj on Twitter.
Minaj was seriously unimpressed by Velez's group performance alongside fellow 'Idol' contestants Lazaro Arbos and Burnell Taylor, and honestly, we can't blame her. The trio's disappointing delivery of the Four Tops' 'I Can't Help Myself (Sugar Pie Honey Bunch)' caused her to remark, "I'm gonna act like I didn't see that or hear it" and promptly order the singers offstage.
However, Velez pushed back with his own comments during a press conference last Friday (March 29). "I agree with the first half of her critique, when she said that it felt like it was Hollywood week, that it was a joke, that stuff like that should not happen, that she was going to pretend that she didn't hear it," he said. "When she went crazy — when she was like 'get off the stage, blah blah blah' and it's just like 'whoa Miss Minaj, I need you to calm down please.'"
Minaj took to Twitter to voice her heated thoughts on the matter:
Lol. Be mad @ AMERICA when u get sent home. The JUDGES are the ones who FOUGHT for America to get the opp to VOTE 4 U!!! #memba?

— Nicki Minaj (@NICKIMINAJ) March 29, 2013
Send the judges some flowers and a card. If Curtis didn't get SAVED, NONE of u get saved! Best male voice of the SEASON!!!!!!!!!!! #TruthTea

— Nicki Minaj (@NICKIMINAJ) March 29, 2013
Trust me BEW BEW. If EYE didn't want u in that TOP, YOU wldnt have been in that TOP. Fought for ALL of you. So just simply b gracious.

— Nicki Minaj (@NICKIMINAJ) March 29, 2013
She went on to remind him that contestants can still achieve staggering success even if they're sent home, citing Jennifer Hudson as an example:
Jennifer Hudson didn't win!!!! Oscar winner!!! #memba??? ok. Take that exposure and let your light shine.

— Nicki Minaj (@NICKIMINAJ) March 29, 2013
Velez tweeted back a hot-headed reply that he later deleted: "That moment when an adult stoops down to the 3rd grade level … LOL grow up Hun, I've got songs to write.
#movingforward."
What are your thoughts on the recent 'Idol' elimination drama? Feel free to discuss!
Watch the Nicki Minaj 'Freedom' Video
Subscribe to PopCrush on