One Direction's 'You & I' Video, Adam Lambert's Green Hair + More – Michelle's Crushes of the Week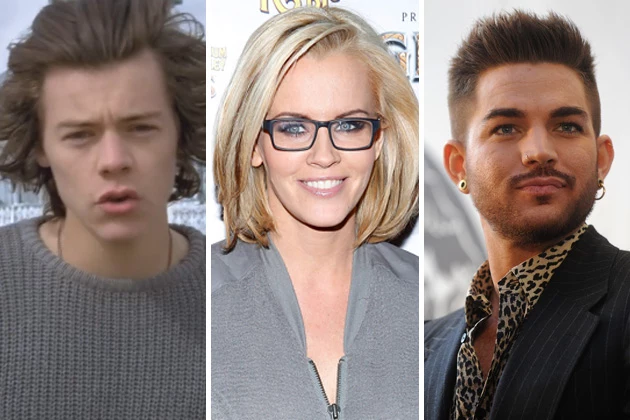 Here at PopCrush, we obsess over all things pop just as much as our readers do. Every Friday, you'll be able to get to know us a little bit better as we gush about our personal favorite pop culture-related things at this very moment. Read on to find out what our Associate Editor, Michelle McGahan, is crushing on this week!
One Direction's 'You & I' Video
Subscribe to PopCrush on
One Direction's music video for 'You & I' finally dropped today, and while the concept was simple and low-key, the guys certainly weren't. In fact, I thought that Harry, Zayn, Liam, Niall and Louis looked better than ever, with their hair blowing gently in the breeze, singing the sweet sounds of what I personally think is one of their best — and most romantic — songs. Swooooon.
Jenny McCarthy's Engagement Announcement
"Obsessed" didn't even begin to cover my response when I saw Jenny McCarthy's insanely adorable engagement announcement on 'The View.' Girl freaked the heck out. And if it is one thing I love, it is big, overwhelming reactions to heartwarming things. The second the blonde beauty dropped the bombshell ("I'm ENGAGED!" she shrieked loudly), she immediately began jumping up and down for joy, running around and hugging her co-hosts on the show. And when her fiancé, Donnie Wahlberg, surprised her by sneaking out on stage? I was done. Best. Reaction. Ever.
Adam Lambert's Green Hair

Not many people can pull off green locks, but if anyone can it's hair chameleon Adam Lambert, who is such a master at switching up his hue that he just dyed his hair from green to white. While the white looks hip, it was his teal-green shade that I fell in love with this week. It was definitely funky enough to keep his rocker edge, but it wasn't so intense that it overpowered him. Plus, the hue was perfect to usher in spring, and it looked great with the shaved sides and faux-hawk style he has going on. Oh, Adam Lambert. If only you kept the green…