Paul Ryan Asked Twitter to Wish Mike Pence a Happy Birthday. Big Mistake.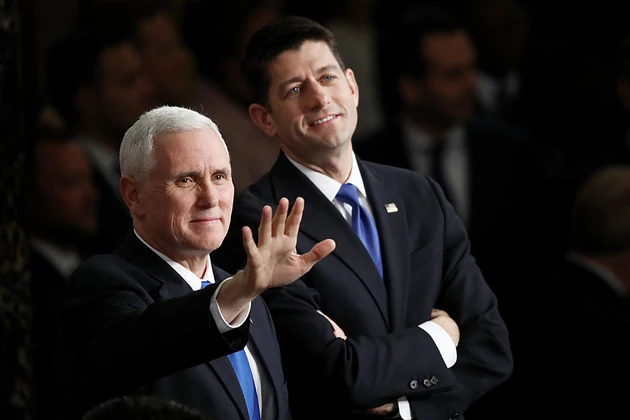 Well, he certainly walked into this one.
Speaker of the House Paul Ryan lobbed a huge slow-pitch softball at the Internet on Wednesday (June 7) when he asked Twitter to wish Vice President Mike Pence a happy birthday. For the record, that's the third man in line for the presidency reaching out to the public to share warm and fuzzy thoughts with the second in line, who just so happened to be turning 58.
Retweet to join me in wishing our @VP, Mike Pence, a very happy birthday. pic.twitter.com/GX2x5zl0fQ

— Paul Ryan (@SpeakerRyan) June 7, 2017
Under a less controversial administration, this may have slipped under the radar. But this is now Donald Trump's America, where nothing happens (not even a cobbled-together story on Ivanka Trump) without some sort of outcry — even happy birthday wishes.
Twitter had the proverbial field day bashing Pence, as well as Ryan.
But, hey, considering the firestorm that ensues whenever the President tweets, you could consider this to be pretty tame. Take a look and decide for yourself.
Let me ask my husband for permission.

— Nats Dog (@zonkerscm) June 7, 2017
— Jerome Gibson (@hedrickgibson) June 7, 2017
Sorry but i can't help but immediately think of the millions of Americans you are trying to take health care away from.

— Crookita (@crookita) June 7, 2017
I am a woman and second class citizen to Pence so no

— Ellen Reeher Morris (@EllenMorris1222) June 7, 2017
I'd pay at least a buck for someone to send him a stripper.

— Charles P. Pierce (@CharlesPPierce) June 7, 2017
Nah, PRINCE owns this birthday

— TheRealScottyP (@ScottP68) June 7, 2017
Another anniversary to remind his parents of their regret of not using a condom.

— MAC (@986) June 7, 2017
Sorry, wish he's very unhappy as he has no respect for LGBTQ or women.

— Andrew Dvorak (@aldsnipe) June 7, 2017
I hope he suffers painful diarrhea for the rest of the week.

— Robbie Rist (@trash24713) June 7, 2017
If by Happy Birthday you mean Ask Him To Resign, I'm there.

— resident resister (@birdytobirdy) June 7, 2017
Retweet if you think Paul is a yes man and poor example of a politician

— Renegade Cowboy ⚓️ (@Rene_gadeCowboy) June 7, 2017
No.

— Parker Molloy (@ParkerMolloy) June 7, 2017
with all of his discriminatory practices, and the GOP's continued support for a corrupt president, i'll be withholding any well wishes.

— ryan boyd (@ryguyrg) June 7, 2017
I'll wish him a HBD when he gets his hands outta my pants and stops trying to push his archaic reproductive limitations on me.

— Liberally Blonde ❄ (@ElGweebus) June 7, 2017
Happy Birthday to known homophobe and christian zealot @VP Mike Pence!! May you have a gay day!

— Kaycee ⚢ Nightfire (@KcNightfire) June 7, 2017
— @Meckpomm (@MeckpommSF) June 7, 2017
Retweet me to wish Paul Ryan a very uncomfortable and persistent yeast infection.

— Ira Newble D GOAT (@Caitie5th) June 7, 2017
Hard pass.

— Liberty Posse (@libertyposse) June 7, 2017
Stars Who Supported Trump for President: