Pitbull Hit with Lawsuit by Lindsay Lohan Over 'Give Me Everything' Lyrics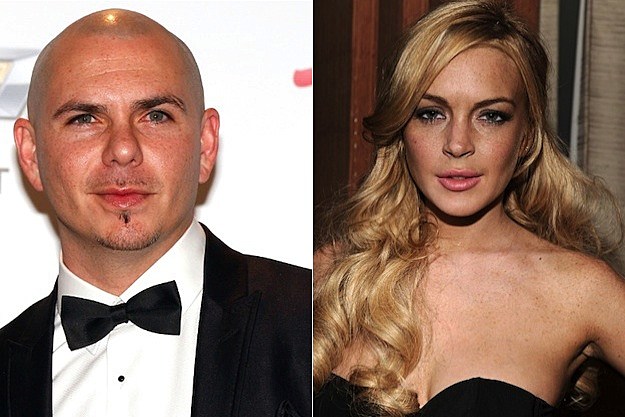 International player Pitbull has been slapped with a defamation lawsuit by paparazzi queen Lindsay Lohan over an unflattering lyric about her on his chart-topping hit single, 'Give Me Everything.'
TMZ reports that Lohan is angry over Pitbull's line in the song where he raps, "Hustlers move in silence, so I'm tiptoein' to keep flowin'/ I got it locked up like Lindsay Lohan." The actress claims in her lawsuit that the Miami rapper's lyric defames her good name and "causes her to be associated and identified in connection with defendents."
Really, Ms. Lohan? This lawsuit sounds so frivolous to us. Ever since she's been walking in and out of jail she's been a running punchline for comedians, talk-show hosts and artists. And now she's upset?!?!
Lindsay is seeking unspecified damages and an injunction to stop all broadcastings of the song. Songwriters Ne-Yo and Afrojack, who co-penned the club anthem, are also named in the documents. We should also mentioned that the lawsuit was registered by attorney Stephanie Ovadia who is the same legal eagle who filed a defamation suit against E-Trade, on Lohan's behalf, and won an out-of-court settlement.
Can you say, ka-ching!
Lawyers for Pitbull, Ne-Yo and Afrojack had no comment on the matter.
What do you think? Does Lindsay Lohan have a case or is she just seeking a quick payday? Sound off in the comments below.