Snippets of Rihanna + Drake's New Collab Track 'Work' Surface Online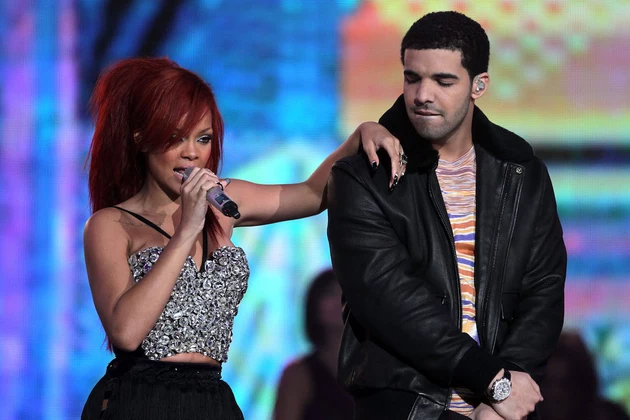 On January 8, Rihanna landed in Los Angeles amid a flood of rumors that she would be shooting an unspecified music video.
Vigilant fans quickly discovered the video's official casting call and posted it online. The call confirmed that the project would be a collaboration between Rihanna and Drake called "Work" and would apparently feature a horse.
The casting call for the new music video of Rihanna feat. Drake OMG!!! pic.twitter.com/GYFllBZEME

— Pietro Basile (@BasixNavy) January 7, 2016
Fans also scoured the area, eventually spotting Rihanna and Drake at L.A.'s Eagle Rock Plaza — with horse in tow:  
When drake and Rihanna bring horses to the mall for their video pic.twitter.com/cQcjbzXOI4 — אריק (@okayerick) January 10, 2016
Adding to the excitement, low-quality snippets of the song have begun to surface online, giving fans vague glimpses of what the (hopefully) future ANTI track will sound like.
The first clip features Rihanna only, while the second offers some of Drake's contribution, although lyrics in both are difficult to decipher:
Riri and Drake are recording the video of one of the songs of Anti probably called "Work" in Los Angeles….@rihanna pic.twitter.com/mnZT4crPoK

— Rihanna (@ririanti20151) January 10, 2016
The second snippet of Rihanna and Drake's 'Work'! 🔥 pic.twitter.com/MhTqyi5qwH

— PopCulture News (@PopCultureShady) January 10, 2016
"Work" will mark Rihanna's first collaboration with Drake since the rapper's track "Take Care" from his 2011 album of the same name and the "BBHMM" hitmaker's "What's My Name" from her 2010 album, Loud.
Artists' Transformations: From Their First Albums to Now