SB50: Celebrities React to Disappointing Game, Bey-Guiling Halftime Show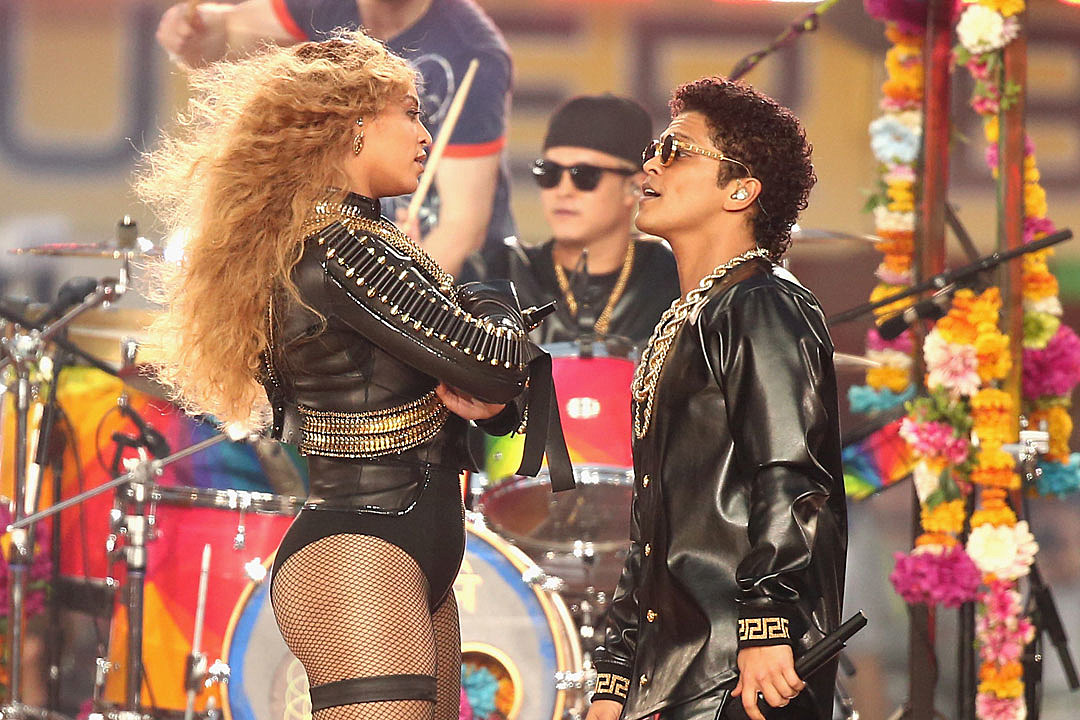 Super Bowl 50, along with its budget-busting commercials and a halftime show that saw two previous stars return for the second time in three years, was a real mixed bag. Panthers fans hoped to watch quarterback Cam Newton flex his talent (and many victory dances) across Santa Clara's Levi's Stadium field, only to find his team no match for the Denver Broncos. It seemed no matter who spectators were rooting for, it was often a night of underwhelming game play.
The halftime show, starring Coldplay, Beyonce, and Bruno Mars with Mark Ronson, was a welcome diversion — and unsurprisingly, Bey was the true MVP. Celebrities, like those of us who watched at home, had plenty of opinions about the evening's events. Check out a roundup of their best tweets and Instagrams below.
The halftime show was Taylor-approved.
COLDPLAY
MARK RONSON
BRUNO MARS
BEYONCÉ
DANCE BATTLE
FIX YOU MONTAGE
JOYOUS FINALE
OH MY GOD IT WAS SO GOOD I FEEL LIKE I DREAMED IT

— Taylor Swift (@taylorswift13) February 8, 2016
Arrow star Stephen Amell later (rightly) deemed the game "peculiar."
What an awful game.

— Stephen Amell (@amellywood) February 8, 2016
Empire's Taraji P. Henson loved Coldplay so much, she thought they were Maroon 5 (her post's since been deleted with a follow-up that says "Ooops. LMAO!")
Cam fan LL was cool with the Broncos' win.
I honestly thought Cam would win it.. but I'm happy for these guys.. they earned it… #sb50… https://t.co/yWWcUOvbuO

— LLCOOLJ. (@llcoolj) February 8, 2016
Silicon Valley's Kumail Nanjiani said what we were thinking.
Helen Mirren has never tasted Budweiser. #SuperBowl

— Kumail Nanjiani (@kumailn) February 8, 2016
Special Super Bowl Unit's Olivia Benson was on the scene.
That's all from me at #SB50. #SolidWin #NewChamps pic.twitter.com/yoF8Qb4ROS

— Mariska Hargitay (@Mariska) February 8, 2016
Many were here for Team Beyoncé.
Ok Bruno and Beyoncé!! I see you!!! Go ahead then

— Khloé (@khloekardashian) February 8, 2016
That halftime show was epic!Have always been a Coldplay fan, so loved their performance. Also loved that Bruno & Beyoncé face off. #yassss

— Victoria Justice (@VictoriaJustice) February 8, 2016
Let us give praise in every way to @Beyoncé #SB50

— Andy Cohen (@Andy) February 8, 2016
Even Chris Martin is like, what am I doing here?

— Anna Kendrick (@AnnaKendrick47) February 8, 2016
What an incredible halftime show!!!! #SB50

— Cher Lloyd (@CherLloyd) February 8, 2016
The #SB50 #HalftimeShow was powerful and meaningful. Brilliant. Congrats to @Beyonce @coldplay and @BrunoMars – #believeinlove

— Joan Collins (@Joancollinsdbe) February 8, 2016
Guessing Chris Martin ceded his dance rehearsal time to Beyoncé and Bruno.

— Seth Meyers (@sethmeyers) February 8, 2016
Lady Gaga's stunning national anthem opener was another major win.
Well @ladygaga wins the Super Bowl and every other single thing SLAY QUEEN!! ❤️

— krysten ritter (@Krystenritter) February 8, 2016
Lady Gaga. You Kween. That was stop in your tracks stunning. #SB50

— Lucy Hale (@lucyhale) February 7, 2016
Ahhh! Gaga is rockin the Clair Huxtable injury clogs from the smooth contest #SuperBowl

— Questlove Gomez (@questlove) February 7, 2016
Lady Gaga/troops/flyover made me cry. #ladywatching #SB50

— Elizabeth Banks (@ElizabethBanks) February 7, 2016
Frozen's Josh Gad held forth on the evening's ads, and was mystified by that pooping commercial, too.
Who on Gods green Earth thought a constipation commercial was best served premiering on the #SuperBowl

— Josh Gad (@joshgad) February 8, 2016
SCIENCE.
If Earth rotated 10x faster in the opposite direction then Coriolis forces would've helped the @Panthers make that Field Goal

— Neil deGrasse Tyson (@neiltyson) February 8, 2016
And, of course, Betty White remains the true champion.
I taught @CameronNewton everything he knows. #SuperBowl pic.twitter.com/IaGeUMbXWx

— Betty White (@BettyMWhite) February 7, 2016