'I Got Love': Girls' Generation's Taeyeon's First Full Length Solo Album Is Coming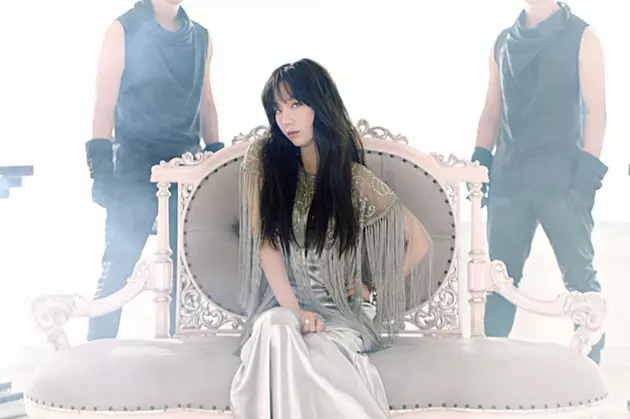 Girl's Generation Official Line – Taeyeon Album Tracklist "My Voice" pic.twitter.com/hfCUJqUOQn

— kim taeyeon 태연 (@kimtaeyeonews) February 21, 2017
UPDATE (2/21): It's got a name! Taeyeon's debut full-length solo album is called My Voice, and includes 13 songs. Some liner note fun facts worth noting: "Sweet Love" was produced by The Stereotypes who also worked on Bruno Mars' "24K Magic," and two songs — "Fire" and "Love In Color" — were co-penned by Myah Marie of Britney Spears background vocalist fame.)
Check out two new teasers from the LP for "Love In Color" and "Cover Up" below.
Subscribe to PopCrush on
Subscribe to PopCrush on
UPDATE (2/17): It's here! Watch the video for "I Got Love."
Subscribe to PopCrush on
From her soaring debut "I" to letting the "Rain" fall down and wake her dreams to making a wish at "11:11," each one of Taeyeon's solo steps have proven that the singer has what it takes to command a career outside of her almighty troupe, Girls' Generation.
And now, she's preparing her first-ever full length LP.
Following confirmation of the news by her record label S.M. Entertainment earlier in the week, Taeyeon's already begun teasing the (increasingly fierce) visuals for pre-release track "I Got Love," due out on February 18.
Subscribe to PopCrush on
Subscribe to PopCrush on
Plenty of fans in the comment section already suspect that the track will have an "Indian or Arabic vibe" based on the short snippet of sound — and nearly all agree that Taeyeon looks irresponsibly hot with this edgier-looking concept.
Prior to this forthcoming album, Taeyeon's released two mini-albums: I in 2015 and Why in 2016. Her latest single, ""11:11," was released in November as a non-album single. (No word on whether it'll show up on the forthcoming LP.)
You ready for the return of Taengoo?
Girls' Generation Through the Years:
Subscribe to PopCrush on