10 Best 'Weird Al' Yankovic Videos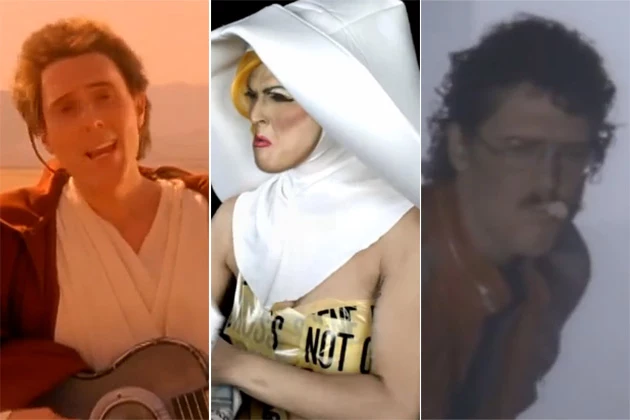 We're taking a look back "Weird Al" Yankovic's long, illustrious career of pop music satire with his 10 best music videos.
In 1976, a 16-year-old kid named Alfred Yankovic handed comedy radio host Dr. Demento a homemade cassette tape after Dr. Demento gave a speech at Yankovic's high school. On the cassette tape were song parodies and original songs written and performed by Yankovic in his bedroom. The first track on the tape was a song Yankovic had written about his family's Plymouth Belvedere titled 'Belvedere Cruising.' When Dr. Demento chuckled and decided to play 'Belvedere Cruising' on his national radio show, "Weird Al" Yankovic was born.
Since his first studio album in 1983, Weird Al has tackled and parodied songs made famous by several of music's biggest acts, including Michael Jackson, Madonna and, more recently, Miley Cyrus, Taylor Swift and Lady Gaga. At 54-years-old, there's no indication that he ever plans to stop what he's doing, as made evident by his latest album titled 'Mandatory Fun,' which tackles a new generation of pop parodies, including songs from Lorde and Iggy Azalea.
Also: Be sure to check out our Best of 'Weird Al' Yankovic playlist on Beats Music.
'The Saga Begins'
Parody of Don McLean's 'American Pie'
Even though 1999's release of 'Star Wars: Episode I – The Phantom Menace' was easily one of the most anticipated movies of the decade, the most loyal of series creator George Lucas' defenders would probably tell you that they, too, had trouble accepting the film as part of the 'Star Wars' canon. But Weird Al saw opportunity with the film's release, and decided to write a 'Star Wars' tune to the music of Don McLean's famous 'American Pie.' The video depicts Weird Al from Obi-Wan Kenobi's perspective, as he sings about the early life of Anakin Skywalker before he becomes Darth Vader. According to Weird Al, he had learned after the song's release that both McLean and Lucas enjoyed the song.
'Money for Nothing/Beverly Hillbillies'
Parody of Dire Straits' 'Money for Nothing'
In 1989, Weird Al starred in a comedy film titled 'UHF,' and for one of the songs featured in the movie, Weird Al wanted to parody Dire Straits' 1985 new wave hit, 'Money for Nothing.' The only condition the band gave was that Dire Straits member Mark Knopfler perform the guitar part for the song. The song pays tribute to the theme song of the classic TV show 'The Beverly Hillbillies' by incorporating the lyrics with 'Money for Nothing.' The video is also in the style of 'Money for Nothing,' which uses the '80s block animation and neon animation.
'Gump'
Parody of Presidents of the United States' 'Lump'
Weird Al's 1996 'Gump' music video acts as a double parody, as it mashes up the Academy Award-winning film 'Forrest Gump' with the Presidents of the United States' breakout '90s hit, 'Lump.' The lyrics and video reflect elements from the Tom Hanks film, while the background music is an oversimplified version of 'Lump.' Weird Al tells the story of Forrest Gump, but for the music video, he and the rest of the band are dressed as the Presidents and borrow shots and scenery from the 'Lump' music video. The video ends with Forrest's phrase, "And that's all I have to say about that." As a result of the video's popularity, the Presidents have adopted the practice of saying that phrase after every live performance of 'Lump.'
'Perform This Way'
Parody of Lady Gaga's 'Born This Way'
We've seen Weird Al in several outfits and costumes over the years – but nothing like this before! For his 'Perform This Way' video — which takes on Lady Gaga's 'Born This Way' hit, as well as her theatrical personality — Weird Al had his face CGI'd onto a scandalously dressed female dancer! The half-Weird Al, half-Gaga character dances in a number of different outfits, some worn by Gaga in the past while others were invented by Weird Al.
The song almost wasn't released on his 2011 'Alpocalypse' when Weird Al requested permission from Gaga to use 'Born This Way' and was initially met with rejection by Gaga's management. When Weird Al released the song anyway online, he learned that Gaga had not heard the song yet, and that her manager had rejected the request without her approval. She later gave her blessing and admitted to being a Weird Al fan. Because Weird Al felt somewhat uneasy about spoofing a song with a positive message about self-acceptance, he encouraged fans to donate to the Human Rights Campaign, and even contributed a portion of the sales of the song toward the organization as well.
'Like a Surgeon'
Parody of Madonna's 'Like a Virgin'
Weird Al typically comes up with parody ideas on his own, but for his 1985 spoof of 'Like a Virgin,' titled 'Like a Surgeon,' the idea came from Madonna herself.
The story goes that after Weird Al's parodies entered the mainstream in the '80s, Madonna had commented to a friend that she was wondering when Weird Al was going to spoof one of her hits, and suggested 'Like a Surgeon' as a play on 'Like a Virgin.' That friend ended up being a mutual friend of Weird Al's manager. Madonna's suggestion reached Weird Al, and he decided it was good enough to move forward on.
'Fat'
Parody of Michael Jackson's 'Bad'
1988's release of 'Fat' was the first single off his 'Even Worse' album and has been a longtime fan favorite in the Weird Al catalogue. Thanks to Michael Jackson's blessing, the music video was shot using the same subway set used in MJ's legendary 'Bad' music video. Weird Al's video borrows choreography and routines from the original video, which helped the song win a Grammy for Best Concept Music Video in 1988.
'Smells Like Nirvana'
Parody of Nirvana's 'Smells Like Teen Spirit'
Nirvana's 1991 smash 'Smells Like Teen Spirit' led the '90s alternative revolution so naturally, Weird Al wasn't going to let that song live on without one of his trademark parodies. 'Smells Like Nirvana' was shot using the same high school set as the original 'Smells Like Teen Spirit' video, with Weird Al depicting lead singer Kurt Cobain in an exaggerated apathetic state. Reportedly, Weird Al asked his 'UHF' co-star and former 'Saturday Night Live' cast member Victoria Jackson to put him in touch with Cobain after Nirvana was scheduled to perform on 'Saturday Night Live.' Cobain initially asked Weird Al if he could do the parody about food, but Weird Al said that he wanted to write about Cobain's incomprehensible lyrics. "Oh, sure, of course, that's funny," Cobain replied.
'White & Nerdy'
Parody of Chamillionaire's 'Ridin"
Part of Weird Al's brilliance over his career can be attributed to his ability to take songs about overt sexuality or extravagant wealth, and change the lyrics to make them relatable in a satirical and humorous way. Such was the case with 'White & Nerdy,' which parodies rapper Chamillionaire's 2006 hit. 'White & Nerdy' sings praises to being an average nerd, with references to Dungeons & Dragons, Star Trek and being fluent in the JavaScript computer language. The song was Weird Al's first Billboard Hot 100 Top 10 hit, a feat he had never accomplished before with his other singles.
'Eat It'
Parody of Michael Jackson's 'Beat It'
Weird Al's 1984 song 'Eat It' was one of his earliest hits and arguably the one that helped Weird Al become a mainstream figure. The video for 'Eat It' was, for the most part, a shot-by-shot remake of MJ's 'Beat It,' but with Weird Al singing about food instead. 'Eat It' helped Weird Al earn a Grammy, and it was later certified by the RIAA as a gold record in 1989.
'Amish Paradise'
Parody of Coolio's 'Gangsta's Paradise'
One of Weird Al's most famous hits ended up becoming the most controversial, as Coolio expressed at the time of the song's release that he did not approve of Weird Al's parody. The rapper said in 1996 that he felt 'Amish Paradise' "desecrated" 'Gangsta's Paradise' and the message he tried to tell in the song. 'Amish Paradise' takes Coolio's lyrics and reworks them in an Amish setting as opposed to the rough streets mentioned in 'Gangsta's Paradise.' Over the years, however, the two have reportedly made up and have been photographed together at events.