What's the Best Song Lyric of the Week? – Readers Poll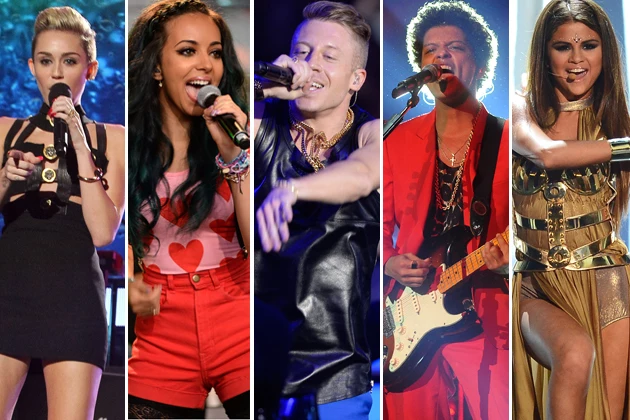 This week, the airwaves were flooded with some of the best songs of the summer, giving us everything from carefree jams to inspirational tunes.
Miley Cyrus continued her comeback with the twerk-happy jam 'We Can't Stop,' while newcomer Macklemore's 'Can't Hold Us' reminded listeners that this is his moment — and he has no intention of slowing down. Little Mix also hopped on the inspiration train, encouraging fans to follow their hearts with 'Change Your Life.' Birthday girl Selena Gomez kept things sultry with 'Slow Down,' but Bruno Mars went retro with 'Treasure.'
We pulled out our favorite lines from this week's songs, but who has the best lyric? Check out the nominees and vote for your favorite in the poll below.
Miley Cyrus, 'We Can't Stop'
"So la da da di / We like to party / Dancing with Miley / Doing whatever we want / This is our house / This is our rules / And we can't stop."
The former Disney star raised more than one eyebrow with that somewhat ambiguous line about "dancing with Miley." After initially claiming that she doesn't advocate drug use in the song, Miley admitted that the track is open for interpretation — and that more mature listeners "know what the lyric is saying." Either way, this is a far cry from her 'Hannah Montana' days!
Little Mix, 'Change Your Life'
"They can rip you, bring you down down to their size / But they will never get to the heart you hold inside / You're not the only one, so let them criticize / You're untouchable when you realize." 
After their grueling stint on 'X Factor,' Little Mix probably know a thing or two about handling criticism with grace. In 'Change Your Life,' they encourage fans to stay true to themselves. We can definitely get down with inspiration like this.
Macklemore, 'Can't Hold Us'
"Here we go back, this is the moment / Tonight is the night, we'll fight till it's over / So we put our hands up like the ceiling can't hold us / Like the ceiling can't hold us."
Little Mix aren't the only ones spreading the "can-do" spirit. One of this year's breakthrough artists, Macklemore, also reminds listeners to live it up, encouraging them to seize the moment. Life is short and Mac wants us all to celebrate.
Bruno Mars, 'Treasure'
"Pretty girl, pretty girl, pretty girl you should be smiling / A girl like you should never look so blue / You're everything I see in my dreams / I wouldn't say that to you if it wasn't true."
With songs like 'When I Was Your Man' and 'Just the Way You Are,' Bruno Mars proved he is quite the wordsmith. On his latest track, he ups the ante, reminding his lady that to him, she's perfect. *Swoon*
Selena Gomez, 'Slow Down'
"Now that I have captured your attention / I wanna steal you for a rhythm intervention / Mr. TSA I'm ready for inspection / Sh-sh-show me how you make a first impression."
Selena celebrated her 21st birthday this week, and there's no doubt that the former Disney darling is growing up. Her latest track, 'Slow Down,' shows that Sel isn't afraid to take the lead, asking a guy to show her what he's made of. We're sure there are many gentlemen out there who would say, "Challenge accepted."