'Wonder Woman' Is Now 2017's Most Tweeted Movie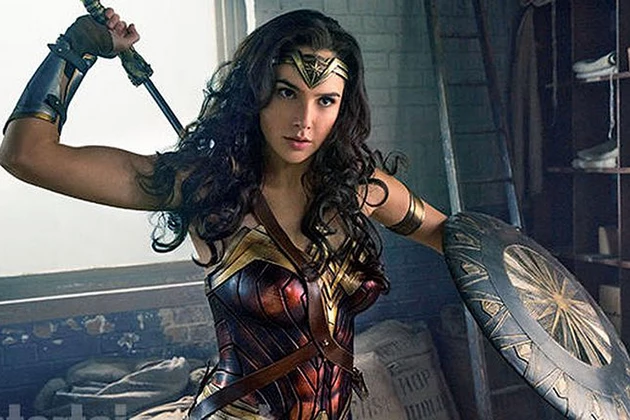 Behold some Wonderful news for one of this year's biggest blockbusters: Wonder Woman, fresh off its record-setting opening weekend, has officially become 2017's most tweeted movie, with more than 2.19 million posts so far. The film has passed La La Land (second place) and Beauty and the Beast (third place) for the crown — uh, warrior tiara.
During an age when superhero movies are as common as watered-down soda in your local movie theater, Wonder Woman has managed to separate itself from the pack and evolve into a full-blown cultural phenomenon. And so what if director Patty Jenkins hasn't signed on to helm the inevitable sequel or if some people are upset at the film's all-female screenings? The film is on fire, with many applauding the long-overdue moment when the iconic Amazonian superhero, who's been around since 1941, finally has her own film!
We can't share all two million-plus tweets here, but here's a sample of what people are saying:
Wonder Woman is breaking box office records!!! Bravo,Patty Jenkins! Bravo, Gal Gadot!
Bravo, Chris Pine!

— Lynda Carter (@RealLyndaCarter) June 5, 2017
Meanwhile women are so starved for powerful images of women not filtered thru a boner lens that they're watching WW and bursting into tears

— Laura Hudson (@laura_hudson) June 5, 2017
dear Lord, please bless the 10yo boy sitting next to me in Wonder Woman who whispered, "Diana, no!" as she put herself in danger.

— emery lord (@emerylord) June 5, 2017
I can't wait to go up to every guy in the theatre for Wonder Woman and condescendingly ask if they're just here with their girlfriend

— Kate Leth ✨️‍ (@kateleth) June 5, 2017
I might start measuring life in "hours since last watching Wonder Woman/hours till next watching Wonder Woman"

— Amy Dallen (@enthusiamy) June 4, 2017
Just passed my neighborhood comic store. Saw a little boy walking out in a #WonderWoman headband, holding her comic book. Hells yeah.

— Andi Gutierrez (@DeeGoots) June 4, 2017
#wonderwomanmovie This Is It! This is how I felt after seeing Wonder Woman today. I felt like Hope and Love was returning to my world. pic.twitter.com/tSTi1iskU7

— Barry D. Shaffner (@bds1972) June 2, 2017
Gal Gadot is my new girl crush. #WonderWoman

— Kisses Delavin (@delavinkisses) June 8, 2017
The only thing that could've made Wonder Woman better is if her email to Bruce Wayne at the end said "My movie was better than yours "

— OhNoSheTwitnt (@OhNoSheTwitnt) June 3, 2017
We ALL have a Wonder Woman inside us. #WonderWoman pic.twitter.com/FwXsfMzvy7

— NikkieTutorials (@NikkieTutorials) June 6, 2017
To all involved in creating the Wonder Woman film, directed by Patty Jenkins, thank you! It's terrific! @PattyJenks @wbpictures #WonderWoman

— C. Fay (@Janus2) June 8, 2017
After watching #wonderwomanmovie I left the movie theater wishing some Greek god would come and fight me!! pic.twitter.com/rVqVG0gpki

— Sayra (@sysy_v) June 3, 2017
I bet #WonderWoman could even kick Captain America's ass. And I love Captain America.

— Zach (@Poison_Star) June 8, 2017
Love @GalGadot I think I found my new favorite actress!!!! #WonderWoman  She seems so humble and sincere!!! Can't get over this movie

— snakesayan (@snakesayan) June 8, 2017
After effects of watching the #WonderWoman #GalGadot is my new crush ❤️⭐ pic.twitter.com/CQ4VjNyJZq

— Ritika Singh (@ritika_offl) June 8, 2017
Because your Twitter feed is being filled with depressing real-life politics stuff, here's a friendly reminder that #WonderWoman was great.

— John D. (@thisjohnd) June 8, 2017
Wonder Woman so good. I laughed, I cried, and I wanted to go save the world afterwards. Mission accomplished #wonderwomanmovie

— Masey McLain (@MaseyMcLain) June 3, 2017
Wonder Woman was one of the best movies ever. If you don't agree then BYE #wonderwomanmovie

— Kristen (@explorerkristen) June 2, 2017
Pop Stars and the Superheroes They Remind Us Of: