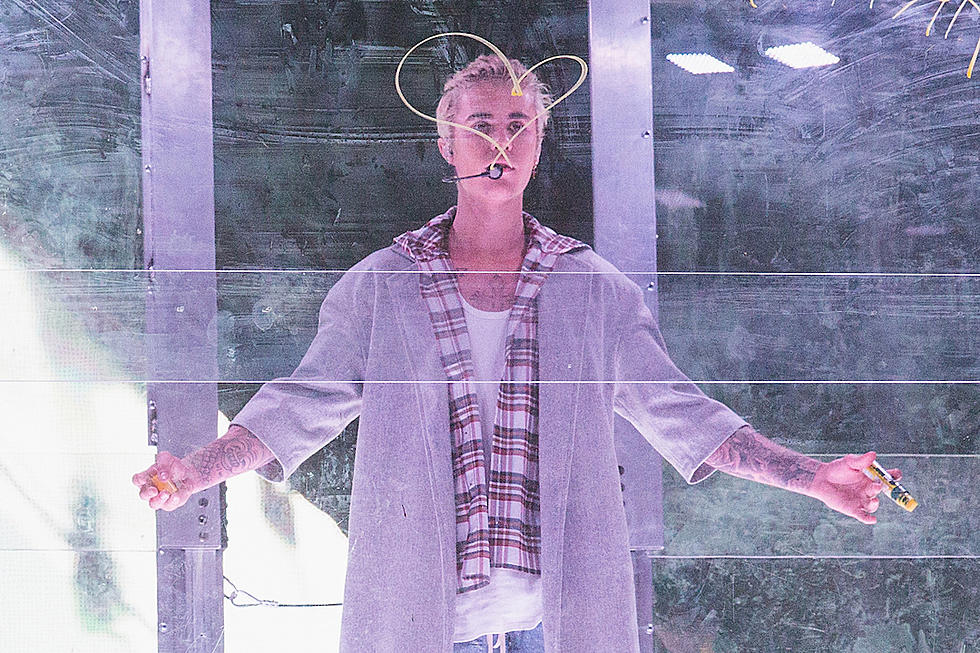 Justin Bieber Kicks Off 'Purpose World Tour': Watch the Opening, See the Set List + Photos
Mat Hayward, Getty Images
The massive arena pop spectacle was of course largely Purpose heavy as far as the set list, featuring his most recent smash singles "Sorry," "What Do You Mean?" and "Love Yourself," some deeper cuts from within the LP ("Been You"! "The Feeling"!) as well as older surprises for the longtime Beliebers, including "Boyfriend" and, yes, even "Baby."
But before formally launching into his show, Biebs kicked off the set inside of a raised glass box hovering above the stage, drawing all over the walls with a marker and crooning "Mark My Words" to the frenzied, shrieking audience — a unique way to kick off the show, no doubt.
See highlights and a set list from the show below, as well as professional photos from opening night above.
Purpose World Tour Set List
1. "Mark My Words"
2. "Where Are Ü Now"
3. "I'll Show You"
4. "The Feeling"
5. "Get Used to It"
6. "Love Yourself"
7. "Home to Mama"
8. "Boyfriend"
9. "Been You"
10. "Company"
11. "No Sense"
12. "Hold Tight"
13. "No Pressure"
14. "As Long As You Love Me"
15. "Children"
16. "Life Is Worth Living"
17. "What Do You Mean?"
18. "Baby"
19. "Purpose"
20. "Sorry"