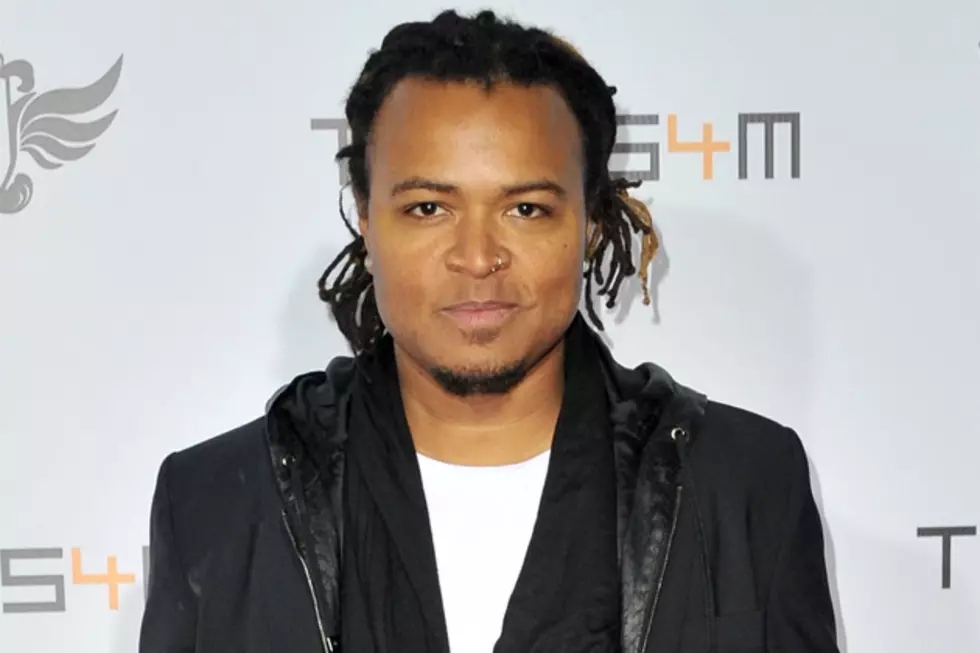 Printz Board Interview: 'Pre-Games' EP, Working With Black Eyed Peas + More [EXCLUSIVE]
Allen Berezovsky, Getty Images
Printz Board is no music rookie. He's been working just behind-the-scenes in the music business for over a decade, and while you may not recognize his face, his songwriting skills are world-renowned. If you've heard the Black Eyed Peas hit 'Where is the Love,' then you're already partly familiar with the Printz legacy.
The Columbus, Ohio, native is stepping forward into the limelight on his own with his new EP 'Pre-Games,' and gearing up for his full album due out later this year. In an exclusive interview with PopCrush, Printz Board gave the scoop on what it was like working with the BEP for so long, how he landed as a solo artist and what we can expect from him in the future. Check out what he shared below.
How and when did you first begin working with the Black Eyed Peas?
Prior to [working with the Black Eyed Peas] I did a bunch of swing dance stuff. I was in a ska band that did really, really good, called Gangbusters. I had my band, called Phazz. We then got into Music Connection Magazine... and all this stuff, it was starting to bubble. Basically, in L.A., we were at the top. Then it came to a point where Interscope Records -- they were going to sign one of the two of us, [me or Will.i.am]. They ended up choosing to sign Will. They decided to call it Black Eyed Peas, and then Will called me up and said let's join forces. And that's how we hooked up.
It's a bummer that it didn't work out initially, but great that Will ended up calling you.
Yeah, I was super pissed. [Laughs] All the guys from Interscope, they were at my shows, singing all the words in the front row. Why don't you sign us? Then it was like, okay, well, I'm still here.
It all worked out! Black Eyed Peas aside, you've worked with huge names in the industry. Do you feel pressured to write hits every time for artists that you work with?
I don't feel the pressure to write something that's going to play on the radio over and over. I feel the pressure to write something that's going to be credible, and that is going to make the labels, the musicians and the people say, 'Wow, that's really cool.' I've written a bunch of stuff for people that's been the sickest thing that they have, but it doesn't go on the album because people are like, 'Well, s---, we'll have to change the album to be as dope, as artistic as this [song] to make it make sense.' I don't mind that. My artistic credibility is still there and it's intact. I'm cool with it.
Still, you've had huge hits. What did it feel like to win your first Grammy?
It felt good. I was like, 'Oh, that's cool, one down.' [Laughs] With those things, you can't sit on those accolades and be like, 'Ah, yeah, I'm the s---.' I took my mom, walked the carpet, said hello to everybody, got it and the next day I was striving for the next one.
Did working with big artists inspire you to go solo, or has that been the plan for you from day one, from the moment you weren't chosen by Interscope?
[The Black Eyed Peas] were like a family. Everybody hanging out, a part of it, our pictures in the album. At a certain point, we started getting so big that it became a divide and a separation between the front four and the musicians. We were getting farther and farther back, and more in the dark. I like doing music because I want to touch people, not because I want a job. The further back you get as a musician, it becomes more like a job, rather than a way of life... Doing the solo thing gets me back to touching people, touching people's hearts, seeing their eyes and their excitement. You see that and it proves that what I'm doing is the right thing to do and this is where I'm supposed to be.
Is the biggest difference between writing for other artists and writing for yourself knowing you affect people like that?
Yeah, I think when you write for other people, it doesn't have to be as personal. I don't have to necessarily believe in the lyric that I'm putting forth as much. It could be their story, not mine, and I just guide them to the best way to tell it. Whereas with my stuff, everything is my story. I'm not making up anything. It's all true, it's stuff that I've experienced.
What was the most difficult part about putting your EP 'Pre-Games' together?
The most difficult thing about putting it together was getting 40 songs down to six. I like to write all the time. It's not a problem to me. I can write a song in five minutes. 'Where's the Love,' we wrote the core of that in 15 minutes.
Wow, 40 songs! Did any of those songs not make it onto 'Pre-Games' but will show up on your LP 'Board Games'?
Yeah. [My management] was like, put ['Pre-Games'] out there, do the small amount of songs, and see what people gravitate towards. Don't be in a rush to put all of the music out there. Especially in a day and age where people are on their cell phones, and you could put these 40 songs out there and 39 of them get lost.
Since you're selecting from the same material, is 'Pre-Games' a good indicator of what's to come with your full album?
Definitely. The cool thing with 'Pre-Games' is that you get a little taste of my party mode with 'Turn the Party Up.' You get a taste of the lover in me with 'Love, Love, Love.' You get a taste of the rock star. It's like a sampler plate of Printz Board... When you get to the full 'Board Games,' you'll be like, 'Ah, OK, now I definitely see it all.'
What is it like to tour with the likes of Cee Lo Green and Macy Gray?
I love it. Just because of what I've done and where I've come from, they've all kind of let me do my thing. They trust me to put the shows together. I'm musical directing, I'm doing my own sets... I'm not going to tour with anybody where it's like a gig or a job. This is all family. We got love, we respect each other. It's just a good time.
You've spent a good amount of your musical career on the road. Can you share your favorite tour memory?
My favorite tour memory has been playing in a 100,000-person stadium, and they all showed up for us. Hearing the roar of 100,000 people and knowing that the only other people that played there were the Rolling Stones and Michael Jackson is pretty heavy. It's pretty intense.
Watch Printz Board's 'Hey You' Video