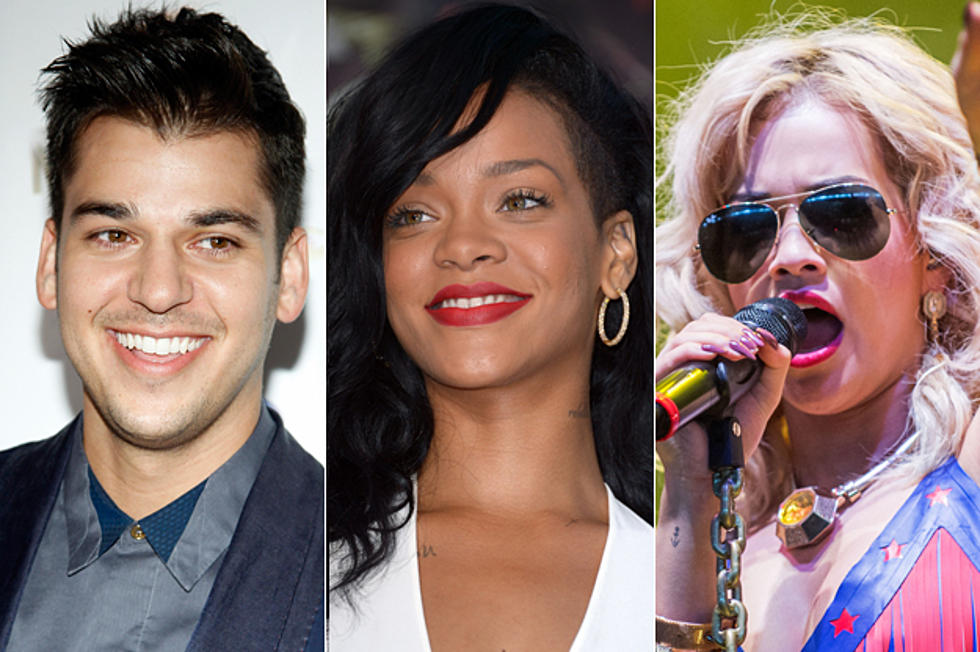 Is Rob Kardashian Stepping Out on Rita Ora With Rihanna?!
Uh oh! Is Rob Kardashian playing our beloved Rita Ora? Some eyewitness accounts suggest so -- and that he's doing it with none other than her rival-turned-pal Rihanna. Maybe those Robert Pattinson rumors were directed at the wrong Rob.
TMZ reports that Kardashian and RiRi were spotted racing go-karts on Saturday before hitting up the Playhouse nightclub in Hollywood. The site also notes that the duo weren't happy at all that cameras caught them hanging out, which is a little ridic. When you're out with the most famous woman on the planet, guess what? Cameras will be there. It seems especially hypocritical of Kardashian, since he garnered his fame from co-starring in 'Keeping Up With the Kardashians' with his sisters and mom, Kris Jenner.
Rob and Rihanna were rumored to have hooked up in February, but that nothing was heard about them as a potential item since ... until now.
Though Ora never confirmed her relationship with Kardashian, even downplaying it as a casual friendship, the pair recently got matching tattoos on their hands (which we hope against hope were temporary). Kardashian even tweeted that Ora was "his wife!" That leads us to believe she may just be keeping her cards close, especially since they doubledated with Kimye!
Ora even speaks highly of Rihanna, with whom she was photographed hugging in May, telling Complex, "I admire Rihanna. She works her a– off. She hasn't had a break and she has given people hit after hit after hit. That work ethic and discipline is hardcore. That's the kind of s— that I want to do. That I will do."
We hope that Rob and RiRi just had a platonic, friendly outing, because if anyone breaks our Rita's heart, we're gonna have real problems!
Watch the Rita Ora 'R.I.P.' Video