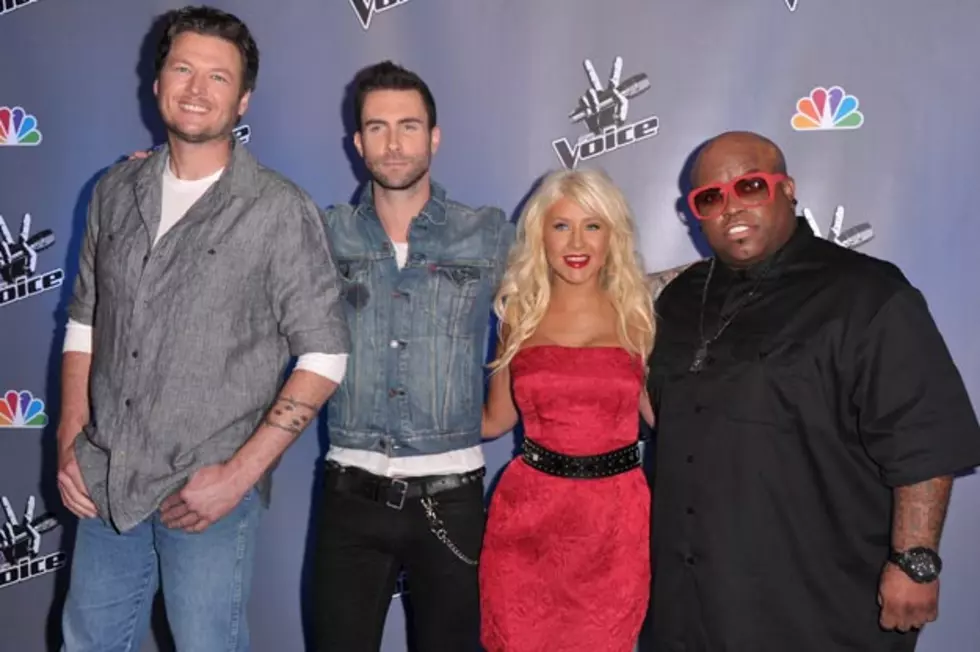 'The Voice' Recap: The Live Playoffs Are Here!
Alberto E. Rodriguez, Getty Images
Welcome to the first live show of 'The Voice,' everyone!
Tonight (Nov. 5) marks the first of the live playoffs. Only three artists from each team will survive the playoffs. America will decide which two artists from each team to send to the Top 12, leaving the coaches to choose just one other to save. Up first for this Monday night is Team Adam and Team Cee Lo. After Blake Shelton and Christina Aguilera's teams go on Wednesday, the amount of contestants will be cut down from 20 to 12.
Before the teams were set to perform, both teams joined forces to give a rather entertaining rendition of Boston's 'Peace of Mind.' It was kind of nice to see the camaraderie between everyone, and their voices blended nicely, but we'd still rather see the coaches perform together.
We also see the return of Christina Milian as the show's social media correspondent in the Sprint lounge. OH NO! NOT THE SPRINT LOUNGE! TORTURE.
Joselyn Rivera: The pop singer chose Demi Lovato's 'Give Your Heart a Break' and was quiet pitchy when she first graced the stage. She was also having trouble breathing in the appropriate places and was out of breath numerous times, which was distracting. Overall? It was a terrible performance and we're not so sure how she made it this far in the competition. Aguilera, Shelton, and Cee Lo must've been drinking the had-to-be spiked kool aid, because they thought she was awesome. Her coach had nothing but nice things to say as well, but we're too busy scratching our heads over the entire thing.
Melanie Martinez: Adam thinks the Minnie Mouse look-alike is poised to win the entire competition (ha!), but we'll excuse his craziness because he just has such a pretty face. Yes, her voice was unique, and she sang 'Hit he Road Jack' by Ray Charles nicely, but she offers nothing exciting to the show and won't do well on a mass volume level. But... then again, neither have the past two winners of 'The Voice.' Aguilera was the only one to rightfully critique the performance, focusing more on her artistic vision rather than on her subpar vocals.
Bryan Keith: He's an artist who just wanted people to want more of him. Aw. He chose the Goo Goo Dolls' 'Iris,' which played nicely into the tone and range of his voice. His voice is good, if not that of a really good singer at a karaoke bar, but we're totally digging the grittiness of his voice and his sleeve of tattoos... if that's an upside of any sort. The coaches must've gotten a refill on that spiked kool aid because they were praising Keith like he was the second coming to rock music, and well, let's be realistic: he's not.
Loren Allred: Allred is proof that a wedding singer can come in the form of someone other than Adam Sandler. She voluntarily picked 'Been Around the World' by Lisa Stansfield, but ultimately, for someone who has faltered to the point of no return multiple times, needs the confidence to secure herself a place in the competition. Her performance was just good: she wasn't super strong and offered no exciting moments during her rendition until the very end. "I'm not surprised it was as good as it was," said Cee Lo. Her coach agreed, but wanted Allred to hit more of those same notes so she can stick around.
Amanda Brown: The background singer was fought over during the battle rounds, as she was pitted up against season frontrunner Trevin Hunte. The powerhouse vocalist tackled Aerosmith's 'Dream On,' a vocally challenging song that not only required range, but strength. Brown was flawless in her delivery, was genuinely comfortable on stage, and most importantly, in control of her voice. And the girl nailed the last high pitches of the song - the most difficult of all -- literally ending the show on a high note.
Terry McDermott: The Scottish rocker proved to be promising during his performance of Journey's overplayed, over-sung on every singing reality show competition, tired 'Don't Stop Believing,' but at least he has the vocals and stage presence to do the song justice, which we appreciate. "The precise clearness of your tone and execution is effortless," said Aguilera. "It's so easy to listen to ... you're always so dead on and you hit those high notes so well." She summed everyone's opinions up perfectly.
Liz Davis: The pretty blond country singer has a voice to rival that of fellow blondes Carrie Underwood and Miranda Lambert, so it's always a pleasure to watch her perform. Her rendition of Martina McBride's 'Independence Day' was strong, vocally on target, and gritty when necessary. Dressed in a long sparkly gown, she sang the ballad perfectly and can easily be considered one of the strongest in the competition; if she doesn't win, can surely find herself signed to any country label looking for its next big thang. "It was a wonderful performance. It made me proud to be an American," said Cee Lo, "where at least I know I'm free." We couldn't agree more, you Swarovski fan holding, outfit inspired by Prince, man.
Cassadee Pope: The one-time frontwoman of the band Hey Monday planned to sing 'My Happy Ending' by Avril Lavigne and wanted to venture out of the pop-rock genre, whereas her coach wanted her to stay put. Pope has a set of distinct pipes and experience working a crowd for sure, and fans of Hey Monday will find she does herself justice. "You always have such a pretty tone to your voice," said Aguilera. "You hit some high notes, that surprised me." Cee Lo agreed, saying her vibrato gives the song more life, which he appreciated, but Levine is still wondering who the "real Cassadee Pope is."
Michaela Paige: The walking stereotype performed 'Everybody Talks' by Neon Trees,  and while she has an incredible voice for someone of just 16-years-old and picked a great song for her vocal range, she comes off as a bit pretentious and it's growing a bit tired. She has a lot of charisma, though, which will of course work in her favor; but still, it all appears to be smoke and mirrors with Paige. Cee Lo said she gave the best performance of the night, and Levine echoed Cee Lo's sentiments, complimenting her on the song choice and her best performance so far.
Julio Cesar Castillo: He still wants people to know who he is as an artist, so he chose the tune 'El Rey' to stay within the realm of mariachi music. Castillo is truly a cut above the rest because even though he's bilingual, he's chosen to sing a lot of songs in Spanish, including this one. He's smooth and charming and could be 2012's answer to Ricky Ricardo from 'I Love Lucy.' Seriously, even Aguilera looked enamored and hypnotized by Castillo's performance, and the audience gave him the first standing ovation of the night. 'Nuff said.
On Wednesday, Team Christina and Team Cee Lo will perform live, and the results from tonight's show and Wednesday night's show will be announced on Thursday.
And given the fact that this show's all about voting, and tomorrow is Election Day, if you're over 18, make sure you go vote! Your President, Your Choice, make your voice heard, kids!