Celebs Eating: See What Hilary Duff, the Vamps + More Ate This Week! [PHOTOS]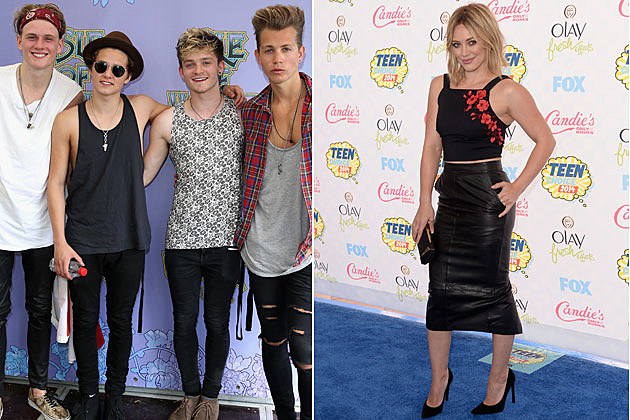 Summer may be winding down, but celebs — and their amazing meals — are only heating up! We're not ashamed to admit that we love seeing what's cooking with our favorite stars and living vicariously through their awesome food choices. Check out the photos below to see what celebs ate this week!
Hilary Duff sipped a lovely (and most likely, yummy) cocktail with a friend.

5 Seconds of Summer drummer Ashton Irwin spiced things up with "Ultra Death" hot sauce!

Mindy Kaling's "dinner winner" was dumplings, which she drenched in sriracha and rice vinegar.

While visiting Houston, Sarah Jessica Parker tried some Tex-Mex.

Yum! Kate Hudson made Rice Krispie Treats for dessert!

Bridgit Mendler scooped up some fresh tomatoes.

Janel Parrish picked up some ice cream. Double Peanut Butter Chip? Yes, please!

Ashley Tisdale had a homemade smoothie for breakfast.

Mandy Moore cooled off with an ice cream cone.

Emmy Rossum cooked up a delicious-looking meal to kick off the week!

Ellen Pompeo proudly displayed her "tomato sauce game."

Little Mix were welcomed to Tokyo with this amazing spread!

Don't worry, Jason Mraz shared his avocados.

Lea Michele made kale soup for dinner.

Ellie Goulding shared her morning ritual of drinking both green tea and a black coffee.

Cher Lloyd cooked up some flapjacks.

We wouldn't minding having a bite or two of Chord Overstreet's "breakfast of champions."

OMG. We're cracking up over Joe Jonas' "cup of joe."

The Vamps nommed on sandwiches with a lot of enthusiasm.

How amazing is Neil Patrick Harris' grilled cheese?