Harry Styles of One Direction Has the Hots for Jennifer Lawrence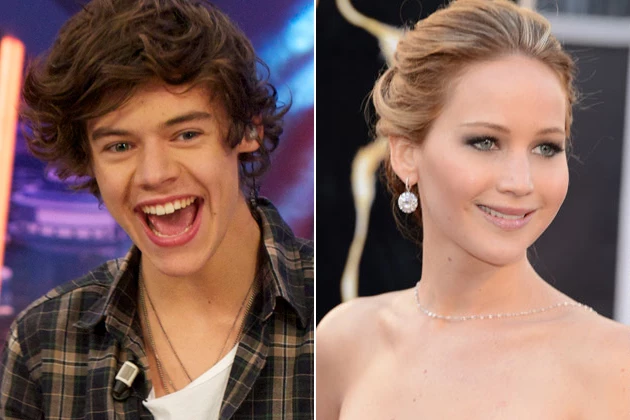 Alright, Harry Styles. Take a number and get in line behind pretty much everyone on the planet because we all have the hots for Jennifer Lawrence. You aren't the only one!
A friend of the One Direction member told The Daily Star, "He fell in love with Jennifer after watching her speech at the Oscars. Harry likes goofy girls and thinks it's hilarious that she fell over as she went to accept her award for Best Actress. And obviously, like most men, he thinks she's drop-dead gorgeous." Wow, that really sounds like something Harry's friend would say, right? Right?!
Styles has reportedly been "begging" mutual friends to set them because, "Harry is quietly confident because he normally gets whichever girl he sets his sights on." Very confident, Hazza!
The 22-year-old Oscar-winning actress also just broke up with her boyfriend of two years, Nicholas Hoult, so she may not be willing to jump into much of anything, even if it is Harry Styles asking her out! And we're just going to say, maybe Styles should cool it with the high profile relationships for a bit after the Taylor Swift media frenzy. That way, he'll really surprise us when he and J. Law start dating…
Watch the One Direction 'One Way or Another (Teenage Kicks)' Video
Subscribe to PopCrush on